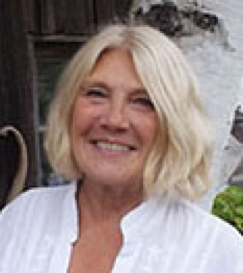 Marilyn Syme
South Royalton, VT 
Marilyn Syme, an artist-printmaker lives and works in Pomfret, VT.
After receiving her undergraduate degree from Oklahoma State University, an art career spanned five decades in a collection of directions.
As a painter, she won numerous awards in juried art shows.
Combining artistic talent and business acumen, she created a company producing American handmade gift items. Her designs sold internationally and were featured in a list of national publications.
In 2008, her focus turned to printmaking. Studies with Sabra Field, Marie Weaver, Dan Weldon, Kathryn Lee Smith and Bill Evaul guided her to the white line woodcut print.
Her prints show her ability in painting, since each piece is an individual work completed by painting the woodblock every printing.
In 2015, she won an artist residency award from the Outer Cape Artist Residency Consortium. Dunes Spirit, her "wordless book" published in 2017 uses white line woodcuts to illustrate that memorable experience.
Exhibits of framed pages of the book have been shown in The Museum of Fine Art in Washington County, Hagerstown, MD. (2016) and the Dartmouth Hitchcock Medical Center Rotunda. (2018) Walking through the pages, viewers created their own narrative.