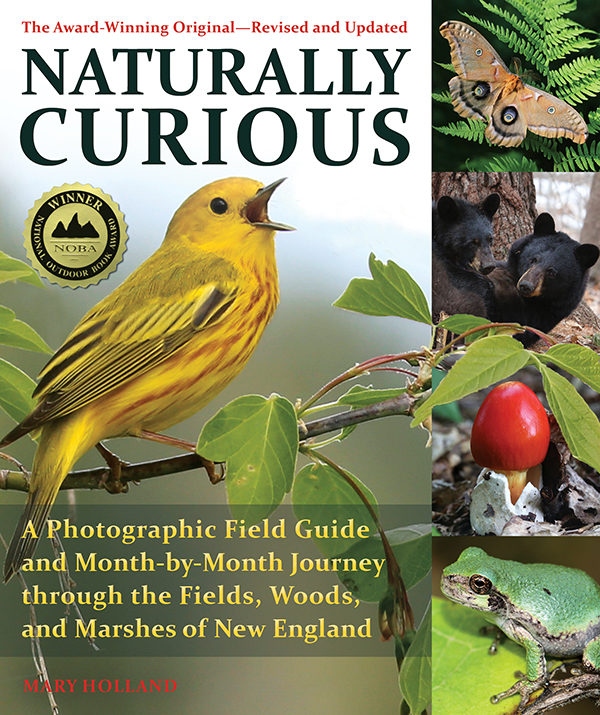 Naturally Curious with Mary Holland
Conversations with the author, and book signing
Friday, August 2, 2019 – 6 – 8 PM
Join us to welcome the new edition of this acclaimed naturalist's book Naturally Curious: A Photographic Field Guide and Month-By-Month Journey Through the Fields, Woods, and Marshes of New England. Due out July 2019.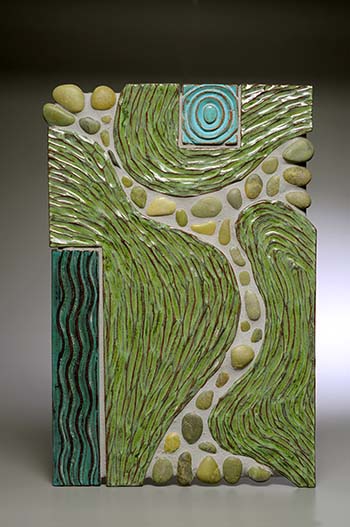 Sheilagh Flynn: "Landscape Meditations: Pattern, Texture, and Line"
June 3, 2019 – September 2, 2019
Opening Reception June 7th, 6-8PM
Sheilagh Flynn captures the dynamics of the earth's textures and rhythms in mixed-media wall mosaics composed of clay and stone.  She celebrates color with the intent to create harmony and contrast within the pieces to enhance the varied carved elements.  The results are powerful and mindful works of art that invite visual and tactile engagement.
The clay journey started at Boston College with the discovery of the ceramics studio and falling in love with making pottery on the wheel.  Graduating in 1982, Flynn worked for an upholsterer until clay intervened again and in 1984 she continued her pursuit of pottery at Harvard University Ceramics Studio.  There she developed a line of functional pottery and launched her career in the world of ceramics. Flynn was on staff at Harvard, responsible for Raku workshops, kiln maintenance and other administrative tasks at the studio.  Growing restless and in need of new information and input, Flynn enrolled at University of Massachusetts, Dartmouth, studying with Chris Gustin and Karon Doherty.  It is there she created large scale hand built vessels with carved surfaces.   These surfaces are the predecessor to the mosaic tile of the future.    Post grad school saw a return to functional pottery until 2014 when after an illness Flynn decided to give full attention to the nascent vision she had in her head: abstracted landscapes based on aerial images of land, water and shore.
Texture, rhythm and the balance of furrowed fields, the round discs of irrigation in the Midwest, mountain ranges and how roads and rivers cut through the landscape are source material for the mosaic wall work.  Flynn takes in all the visual information and works intuitively on the clay canvas.  She establishes the river/path and working from that lively line she defines each territory looking to create harmonious energy.  The parts are then individually carved with a variety of texture.  The work dries, is bisque fired, and then glazed with a palette that include upward of 30 colors.  The work is then reassembled on a backer board; the stone is selected and set with mortar.  Grout completes the process and the parts become a whole.
Flynn creates an original world of color and texture that tells a story about journey, flight and imagination.  The resultant work creates a vibrant, serene and expanding sense of space and place that has resonances with classic Zen Buddhist gardens or meditative moment on the beach.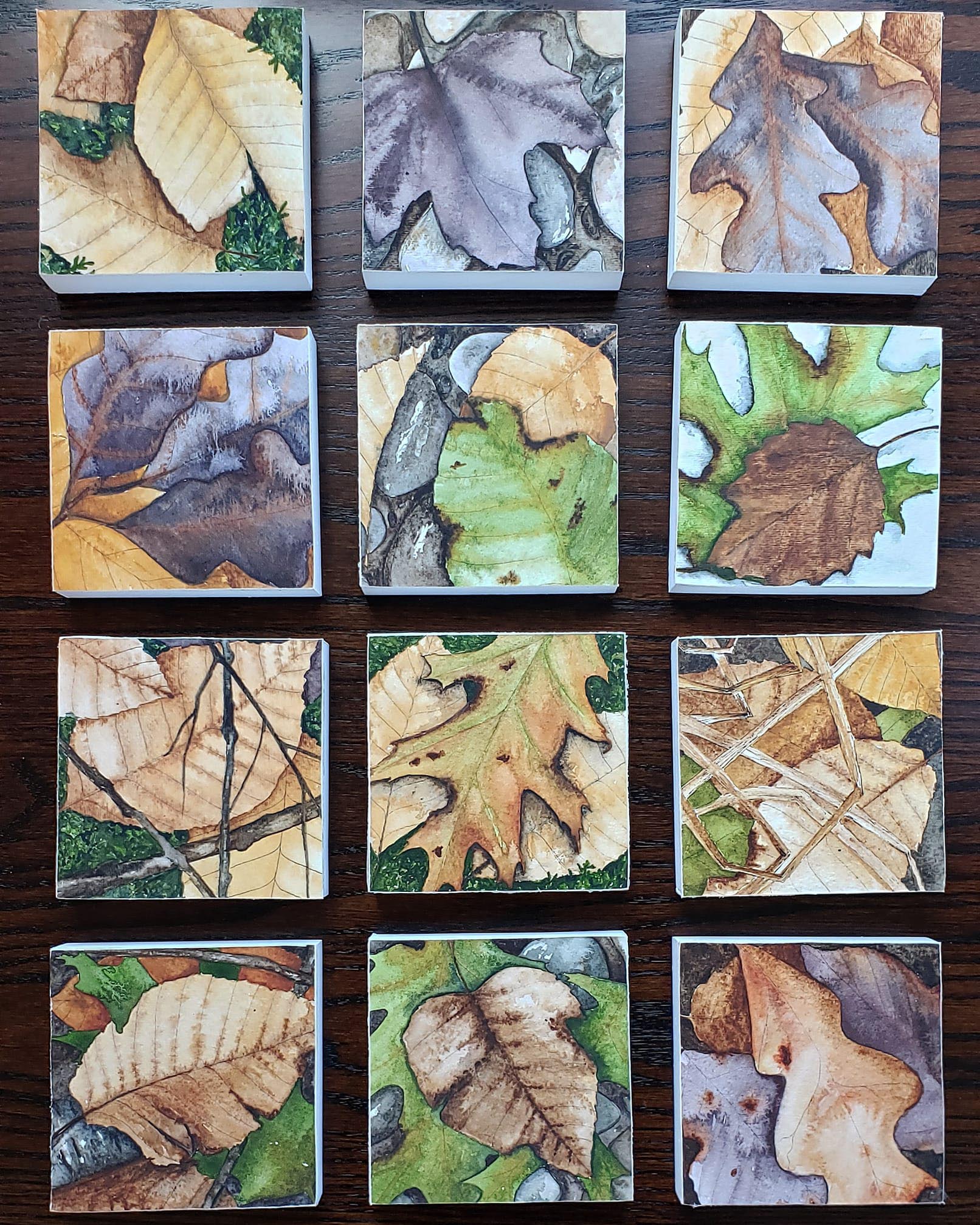 Twelve Littles, work in progress.
Amy Hook-Therrien: "Littles"
May 3, 2019 – July 31, 2019
Opening Reception May 3rd (First Friday) 6-8 PM
Amy Hook-Therrien is a visual artist who creates paintings using watercolor/ pen & ink. As a native Vermonter, originally from Chelsea, she grew up nestled on top of a hill overlooking the valleys below. She was surrounded by nature and beauty. Nature is her main inspiration and the focus of a majority of her pieces. She graduated from Randolph Union High School with a passion for art. She went onto college at the University of Maine in Orono majoring in fine art with a focus in sculpture and painting. After graduating with a BFA from UMaine she moved back to Vermont. When she is not creating art Amy loves to travel, hike, garden, and spend time with her family.
This show will include 72 separate watercolor paintings of leaves on the forest floor. Each 4″x4″ painting is painted on watercolor paper and then mounted on a small wood panel and protected with matt varnish.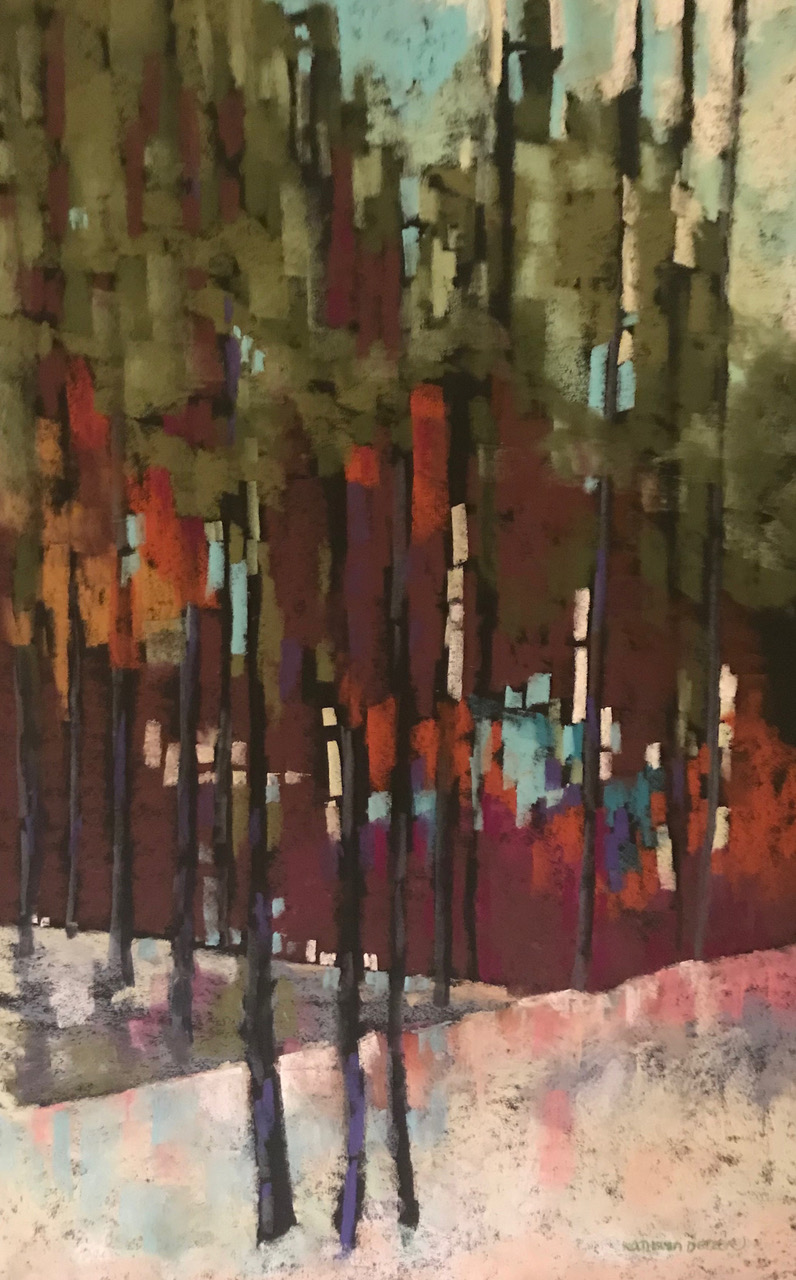 Kathryn Detzer: "Through the Trees"
March 1, 2019 – May 31, 2019
Kathryn Detzer's"Through the Trees" invites viewers to notice the ways that light filters through the forest in of all its seasons. Detzer has been working in pastel for over 20 years, but for those familiar with her work, these are a diversion into the realm of the abstract.
Image:  Kathryn Detzer, Reaching Northward, 2018, pastel on Mi Tientes sanded paper, 34.5 X 24.5", 2018
Matthew Sergeant: "Photographic Vision"
December 7, 2018 – February 28, 2019
Matthew Sergeant's "Photographic Vision"explores a new visual space between movement, time, and perspective. Sergeant, who lives and works in Vermont, created his latest body of work by designing and building a digital camera to operate outside of conventional photographic formats. The resulting images are a mix of realism and abstraction with landscapes, rivers, rocks, and trees translated into a flowing stream of tones.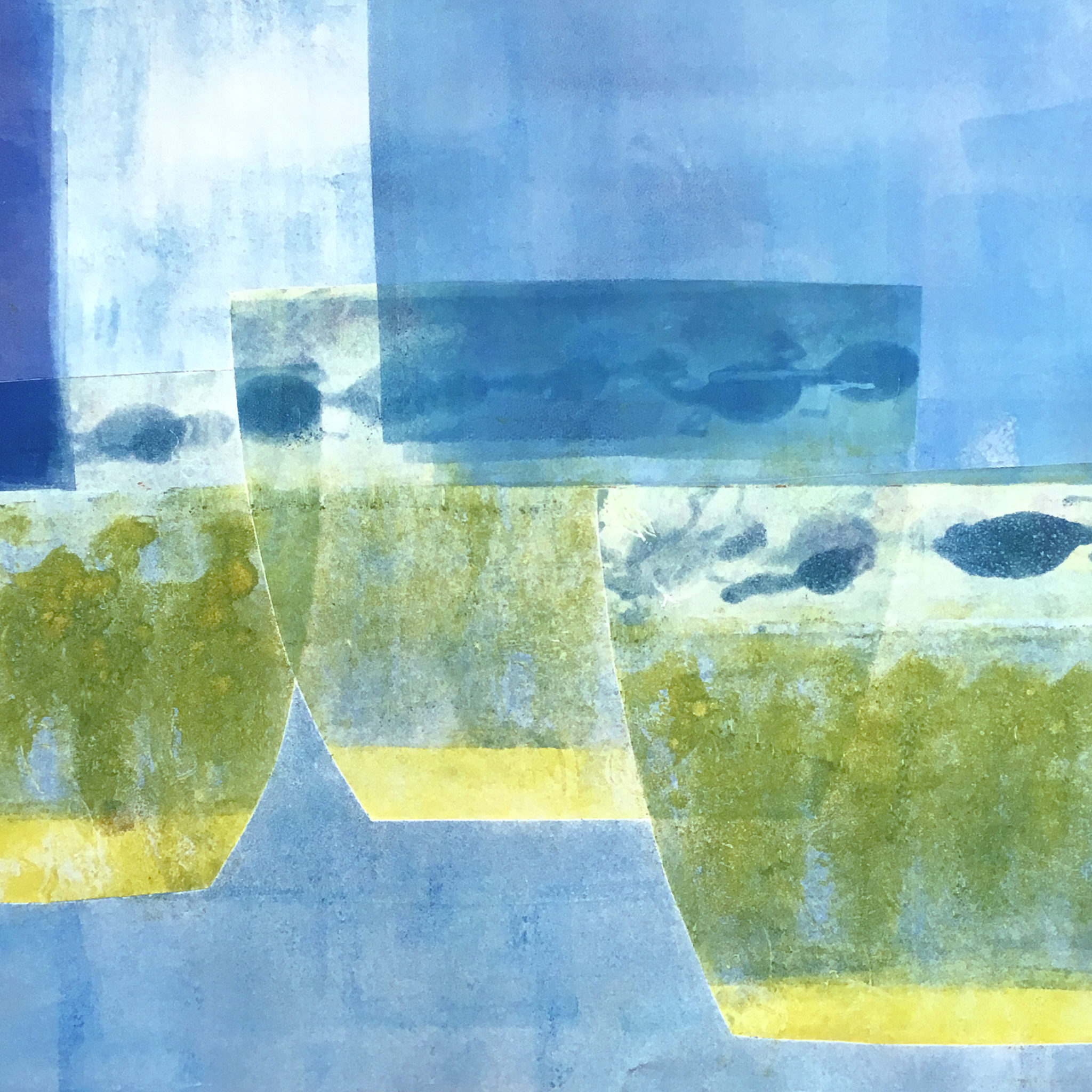 Patty Castellini: "Abstract Monotypes"
September 7, 2018 – December 6, 2018
Drawing on her long relationship with ink, brayers, and the printmaking process, Castellini mixes inks and paints in unconventional ways, producing an art of possibility and expressing the infinite properties, color combinations, compositions and visual textures of the medium.
Image: Patty Castellini, Full Vessels, 2018, monotype, 8 x 8". Photo Credit Athena Tasiopoulos