"Bold Botanicals"
Group Show at Long River Gallery
July 7th – August 27th, 2023
Artists Reception July 7th (First Friday) 5pm – 8pm
We're bringing the garden to the Gallery!
Bold Botanicals features artists from Vermont, New Hampshire, and Western Massachusetts.
Works represent a variety of media, but all feature flowers front and center as their subject. Step out of your garden for a brief spell in our air-conditioned one!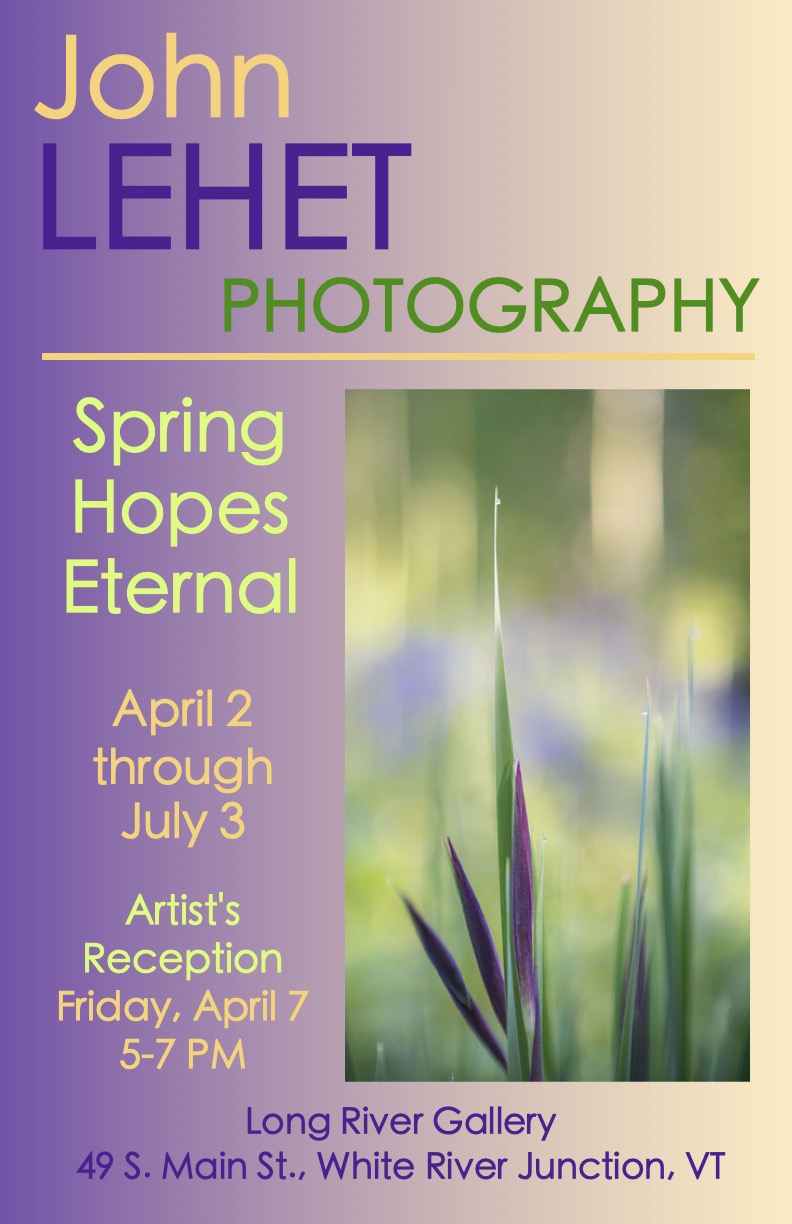 Spring Hopes Eternal, John Lehet, April 2nd -July 3rd
Artist's Reception, First Friday April 7th, 5-7 pm
Vermont photographer John Lehet presents Spring in all her glory, from first buds to swollen brooks.
John Lehet has been making archival, carefully crafted fine art photographs for over 40 years. With a unique way of seeing things and a deep understanding of his medium, from silver emulsions all the way to raw digital data, software, and pigment ink, John is a master of his craft.
"One of the most interesting things about photography for me, always, is the mystery of how a photo works, how it sticks in one's mind and keeps resonating." I first noticed this sitting long hours in the art library at Dartmouth College in the 70s and early 80s, pouring over books by famous photographers. What was it about some of those images that rang me like a bell, and kept ringing over the years? Of course, some of it can be explained: by having good composition, a good technical execution, etc. But there's some mystery. Tapping into that mystery is in a way, for me, tapping into THE mystery."
Come get your fix of mystery, wonder and SPRING, no matter what the weather.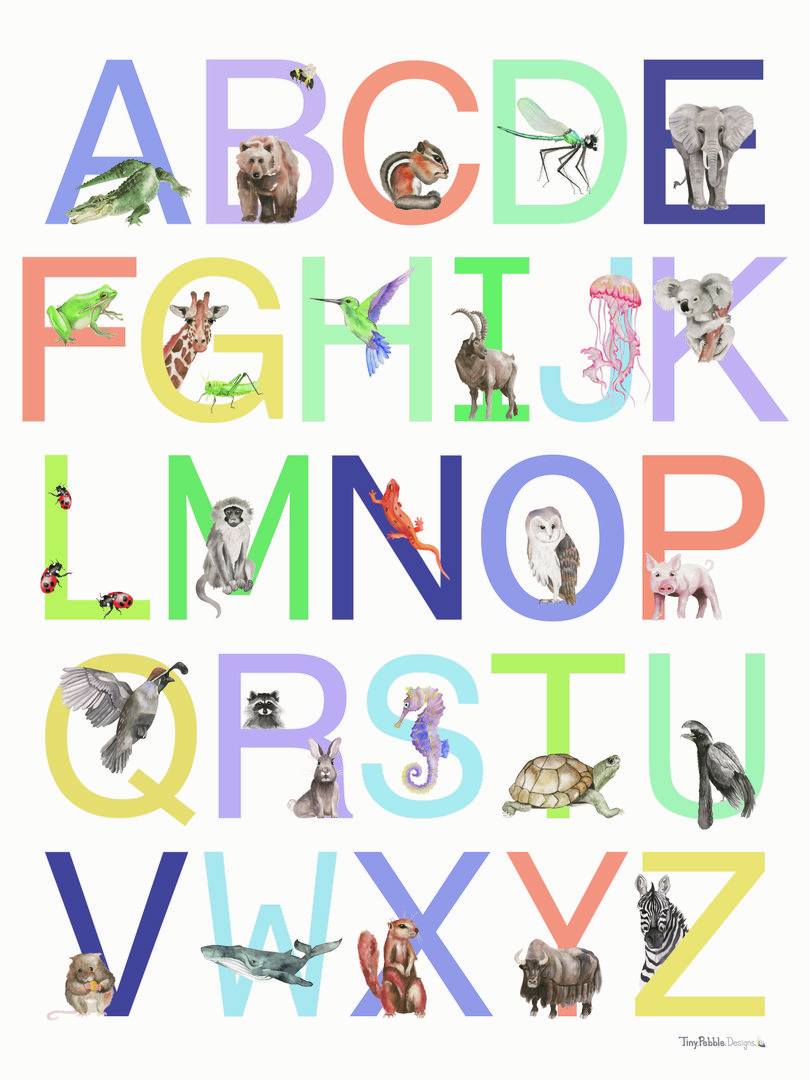 Flora and Fauna from A to Z
January – March 2023
"Flora and Fauna from A to Z," is a selection of watercolor and digital art using nature as inspiration, which is on display through March. Leah creates individually designed letters and images which are hand-drawn and then finished digitally.
Beyond Words, Invited Artists,
September – November

What is the essential nature of a book? Is it the printed word? The knowledge or the tale within? A beloved object? What do books mean to you? We are excited to announce an exhibit of book art this Fall, just in time for back to school and cozy autumn reading.
Beyond Words is a multimedia exploration of books by a talented group of invited artists from the Connecticut River Valley region. Books as subject, material, and format …  handmade books of paper and other materials, altered books, and sculpted or framed representations of books. 
Join us when the artists present their work, 5-8 PM First Friday, September 2, 2022.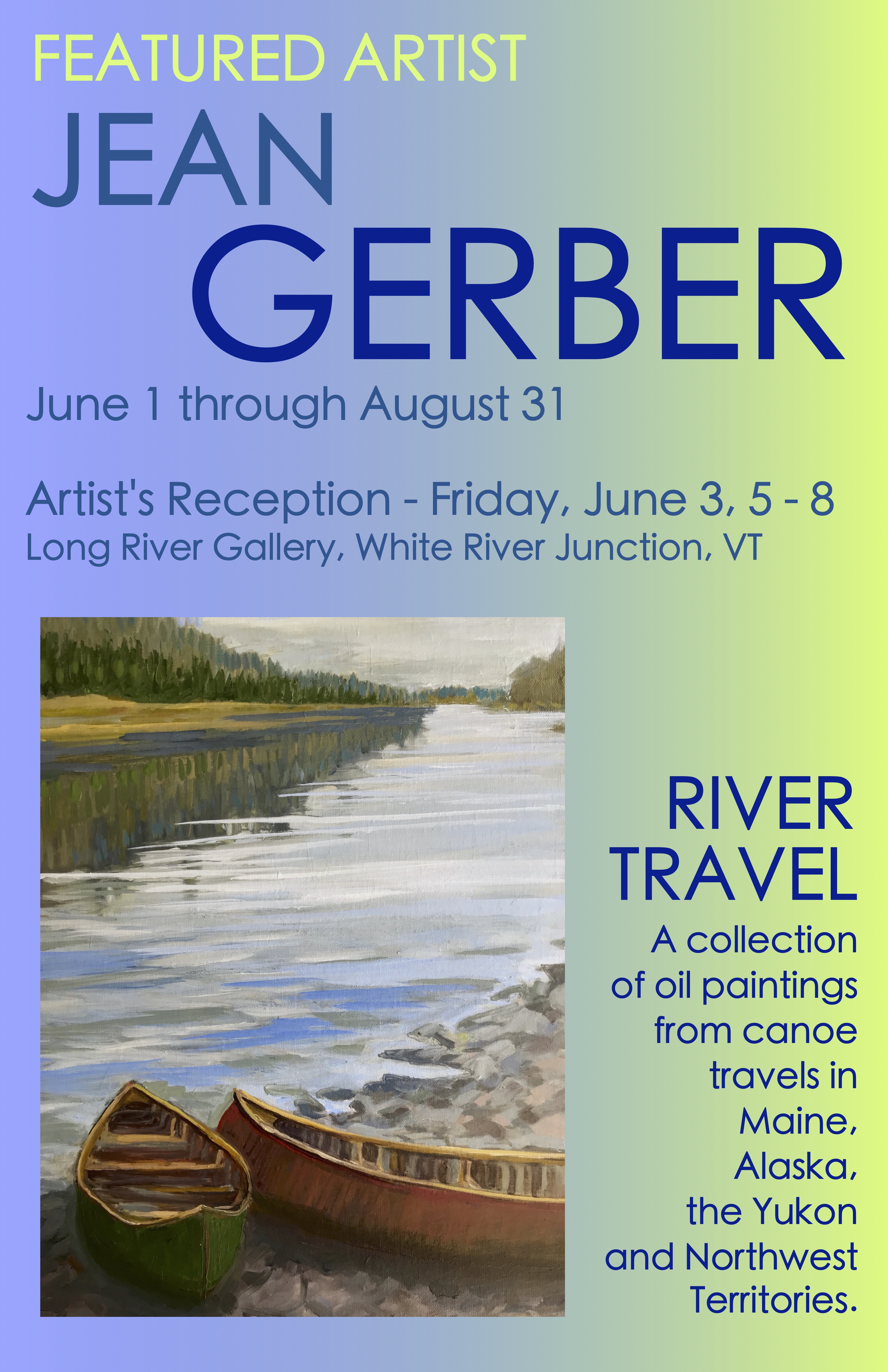 River Travel, Jean Gerber, June – August
Our next exhibit (June -August) will be of Jean Gerber's work. Jean lives and paints in Thetford Center, Vermont. This show will feature her work inspired by far Northern trips – Alaska, the Yukon and Maine.
Join us to meet the artist and enjoy live music on First Friday, June 3rd, 5-7 PM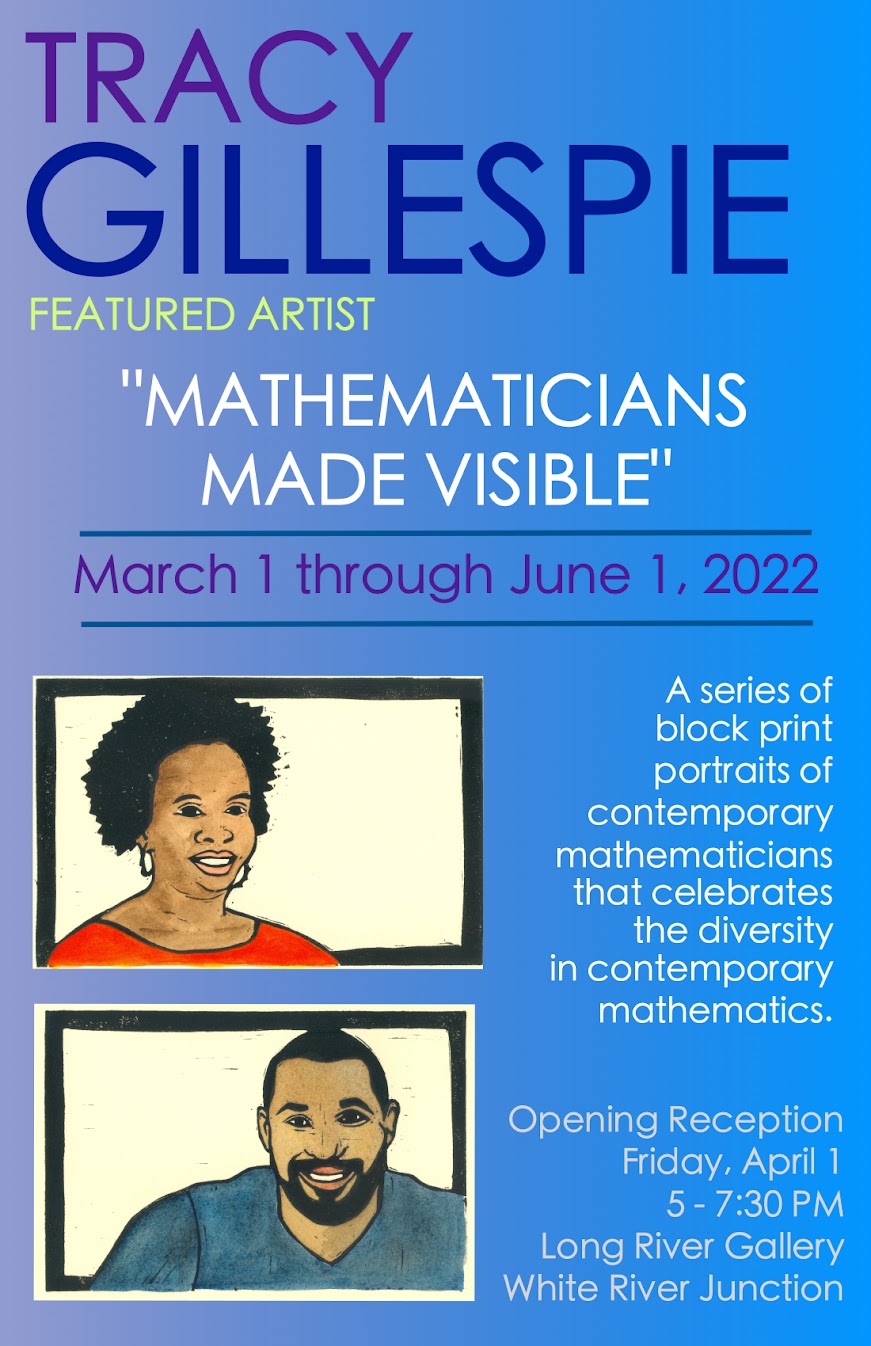 Mathematicians Made Visible, Tracy Gillespie
March 1st – June 1st
*** Artist Reception Friday, April 1st 5 PM – 8 PM ***
Tracy Gillespie is a middle school math teacher and a block print artist. She says, "I had this idea to make a really good-looking math poster about how cool pi is and some of the history behind calculating pi, and as I was doing my research I was thinking: why do all of these mathematicians look the same?"
She then thought about her experience as one of two female math majors in college and decided to do something to help provide a more diverse population the ability to visualize themselves as mathematicians.
Her goal is to create a series of 12 portraits of contemporary mathematicians from under-represented groups. When completed, she'll turn the portraits into posters and make them available to teachers to print out and put up in their classrooms. She has finished nine of the portraits so far, and framed originals are for sale in the gallery. There was an excellent article on the Valley News about the show. https://www.vnews.com/Out—About-Math-teacher-creates-posters-to-amplify-lesser-known-mathematicians-45352185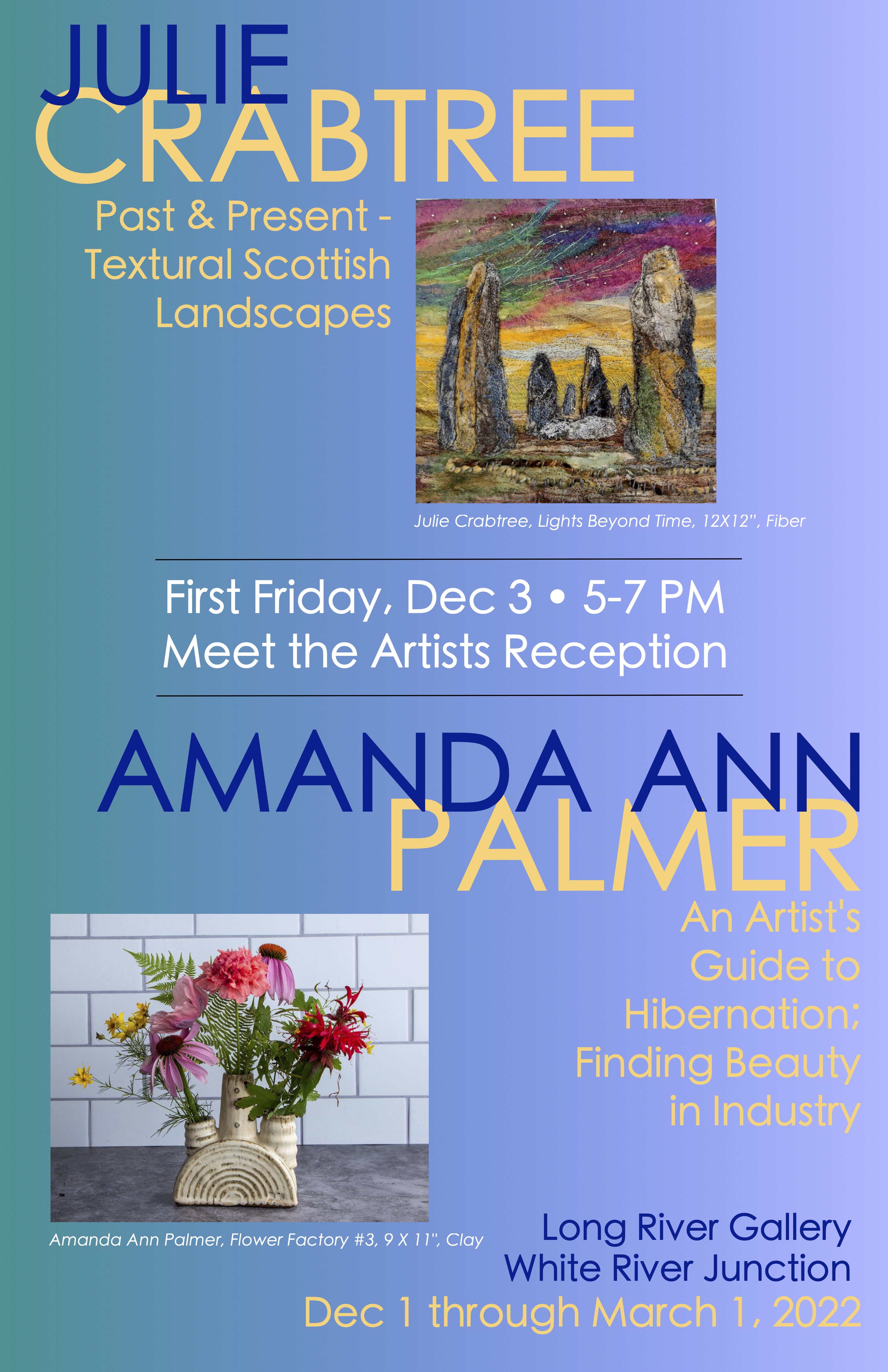 "Past & Present – Textural Scottish Landscapes"
Julie Crabtree, December 2021 – February 2022
You may already have admired Julie Crabtree's meticulously stitched landscapes – from miniature scenes on pendants to large, framed tapestries. She uses hand and free motion machine stitching to bring together hand spun and dyed yarns, felting, sheers, and netting, painted and dyed backgrounds, and distressed fabrics to create the unique effect she is striving for. Steeped in color and texture, Julie's textile art finds endless inspiration in nature: rocks, trees, foliage, and the sea with needle, thread and paint. This show will feature work inspired by her travel to Scotland. Julie says, "I felt a huge connection to the Orkney Island, its bleak austere land. The magnitude of archeological history; Viking culture, rugged cliffs and crashing sea, it is a land to its own, with so much to give the artistic soul."
"An Artist's Guide to Hibernation: Finding Beauty in Industry"
Amanda Ann Palmer, December 2021 – February 2022
We are also featuring Amanda Ann Palmer's wonderful pottery for the home. You probably know her as the artist who makes the heart mugs. Amanda Ann earned her BFA with a concentration in sculptural ceramics and has been honing her skills and cultivating her aesthetic of clean lines and smooth geometric forms for twenty years. She says, "In my ceramic work, I explore the shapes and tactility of rural industry, referencing often the imposing form of the grain silo and the heavy texture of corrugated metal. My pots are wheel thrown with strong horizontal contours and I use an iron-red clay that shows through the glaze on the textured areas. Working in series, each pot is hand made with mix and match sets in mind. Having fun is important and I want my ware to encourage playfulness."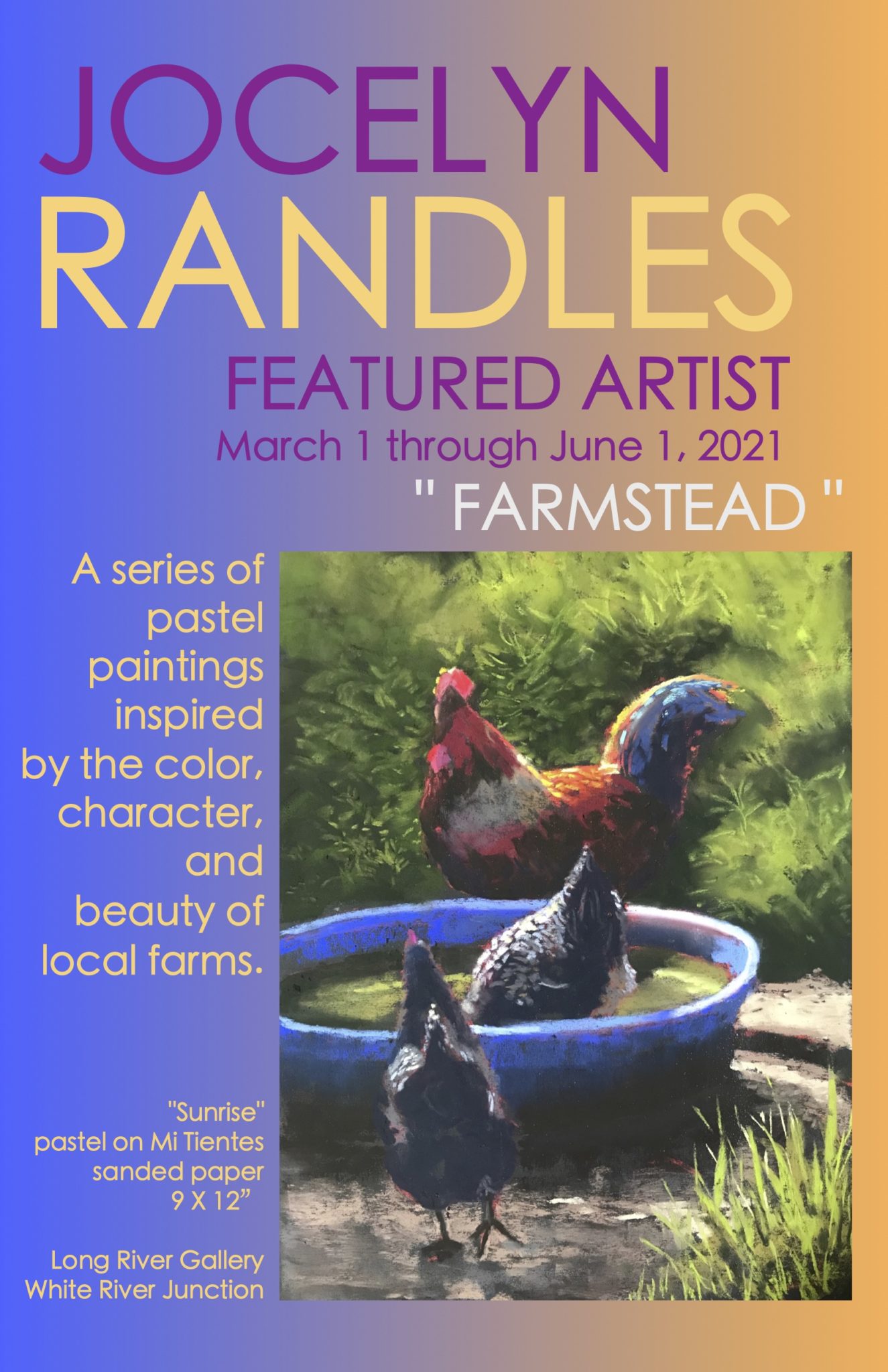 Farmstead
Jocelyn Randles, March 1st- June 1st
Please join us in welcoming artist Jocelyn Randles' exhibit, "Farmstead," a series of pastel paintings inspired by the Vermont farmstead.
Originally from the grey suburbs of London, Jocelyn has now escaped to the hills of North Pomfret, Vermont.  She loves the sense of space and the way the light and colors change so dramatically with the seasons, and she takes delight in the local farm animals.  Jocelyn's preferred medium is pastel as it is immediate and versatile.  After planning her painting with sketches, she usually starts with a wet underpainting on sanded paper and applies dry pastel over that.
The subjects of the Farmstead series are taken from reference photos.  Jocelyn spends a lot of time watching the animals and tries to incorporate their personalities into the paintings.  The cows are curious and seem to have defined roles within the herd.  The chickens have a rather dotty collective consciousness, and the ducks roam in gangs. 
The Shift series is more focused and comes from a contemplation on aging.   Jocelyn recognizes that her body has lost color and definition with age, but that she has gained a sense of peace and equanimity.  This realization has come into sharper focus within the past year.  She uses the landscape at dusk as a metaphor for this; the color drains from the land and the eyes look upwards toward the sky.  The lighted windows represent the artist (or anyone who identifies with this train of thought!).
Jocelyn has only just started showing her work and welcomes any feedback or questions.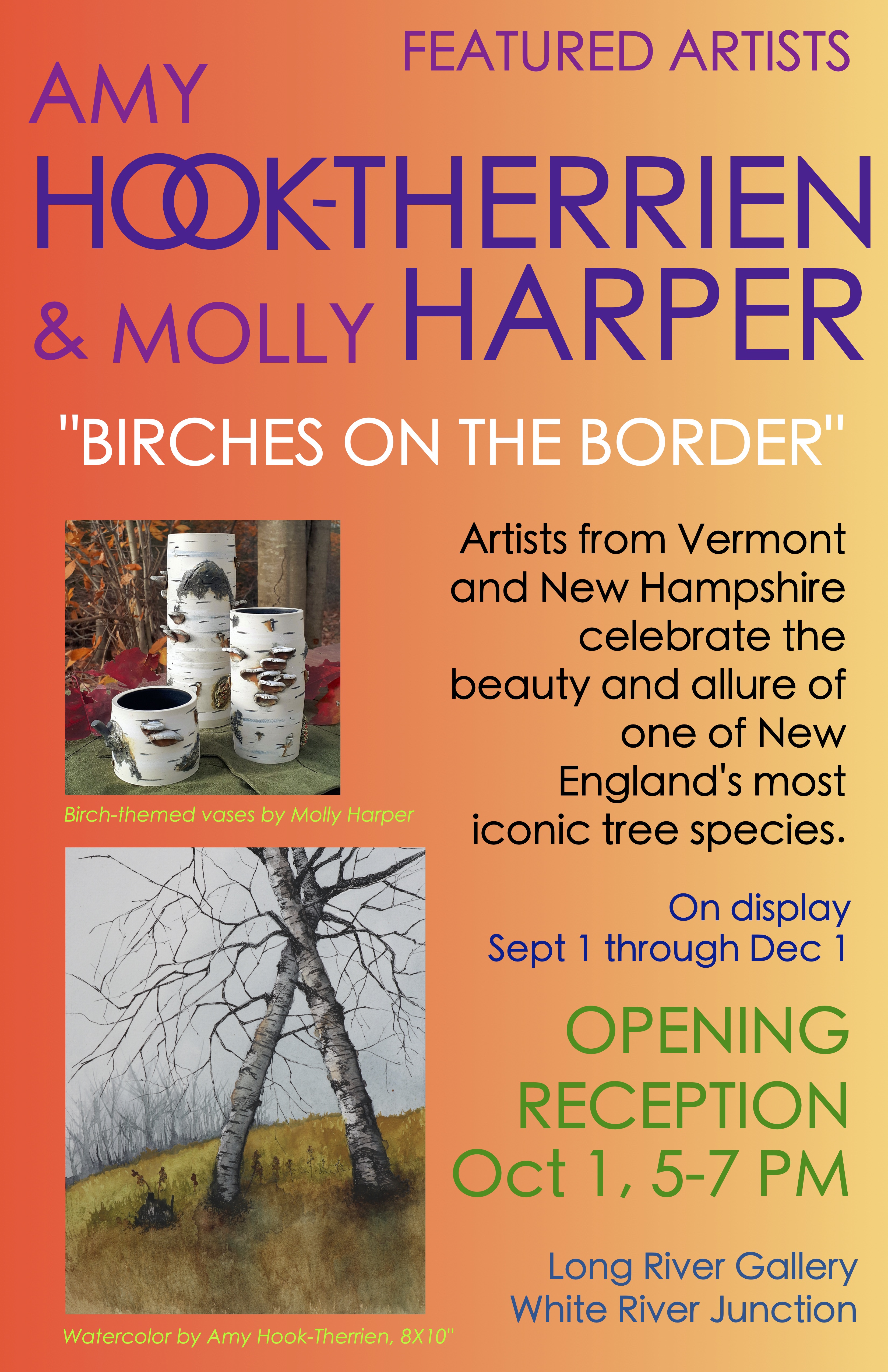 Birches at the Border
Amy Hook-Therrien and Molly Harper
September 3, 2021 through November 2021
Celebrating the allure and beauty of one of New England's most iconic tree species, Birches on the Border will feature the unique creations of Vermont watercolorist Amy Hook-Therrien and New Hampshire potter Molly Harper. Grown out of a mutual love for capturing New England's wild spaces in their respective crafts, the show will include collaborative pieces by the two artists as well as new individual work. The show will start in September with an opening reception on Friday, October 1st (a White River Junction First Friday).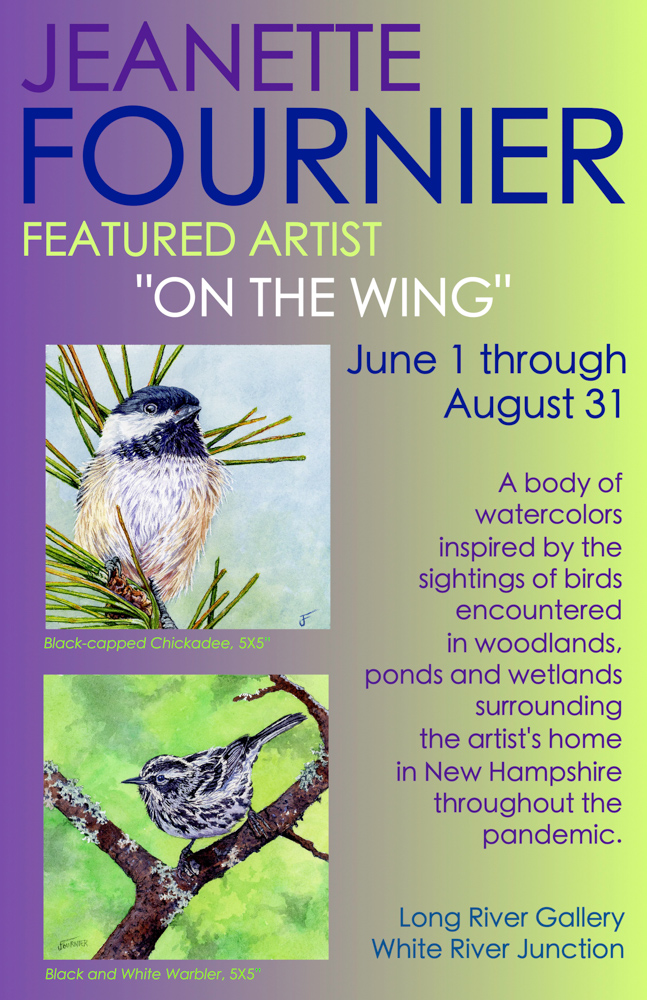 On the Wing


Jeanette Fournier, June through August 2021
With the stay-at-home directive of the past year, watercolourist Jeanette Fournier of Littleton, NH has been doing a lot more bird watching.  Her work is inspired by a love of nature and the animals and birds found in the forested regions of northern New Hampshire and Vermont. She says, "With time on my hands, I decided to create a body of bird artworks featuring all the birds sharing my backyard and the surrounding woodlands, a pond and the wetlands near my studio.  This exhibit will be a selection of the artworks created for this series so far."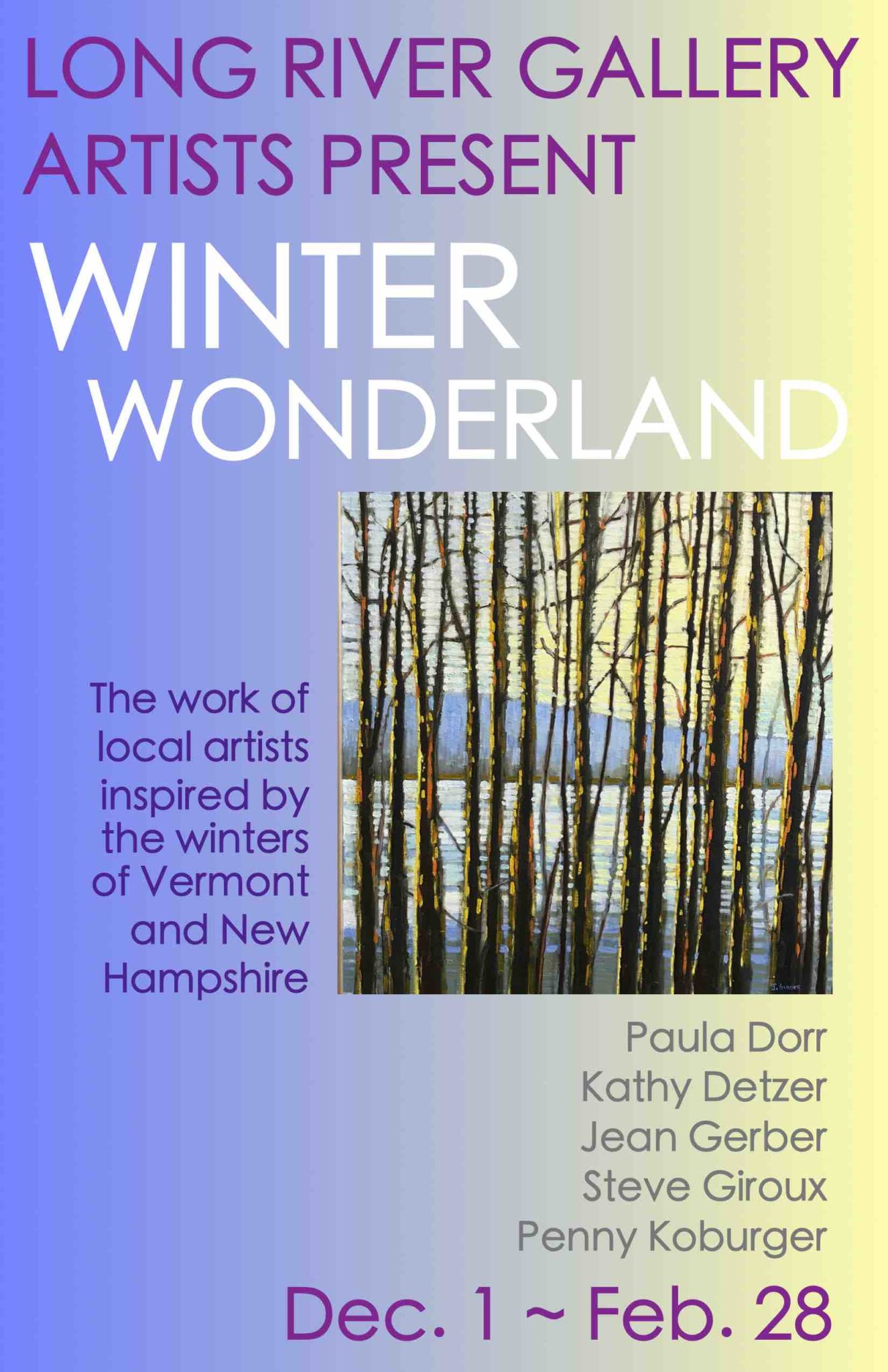 Winter Wonderland
December 1st- February 28th
Inspired by Vermont and New Hampshire winters, 'Winter Wonderland' features the work of artists Paula Dorr, Kathy Detzer, Jean Gerber, Steve Giroux and Penny Koburger.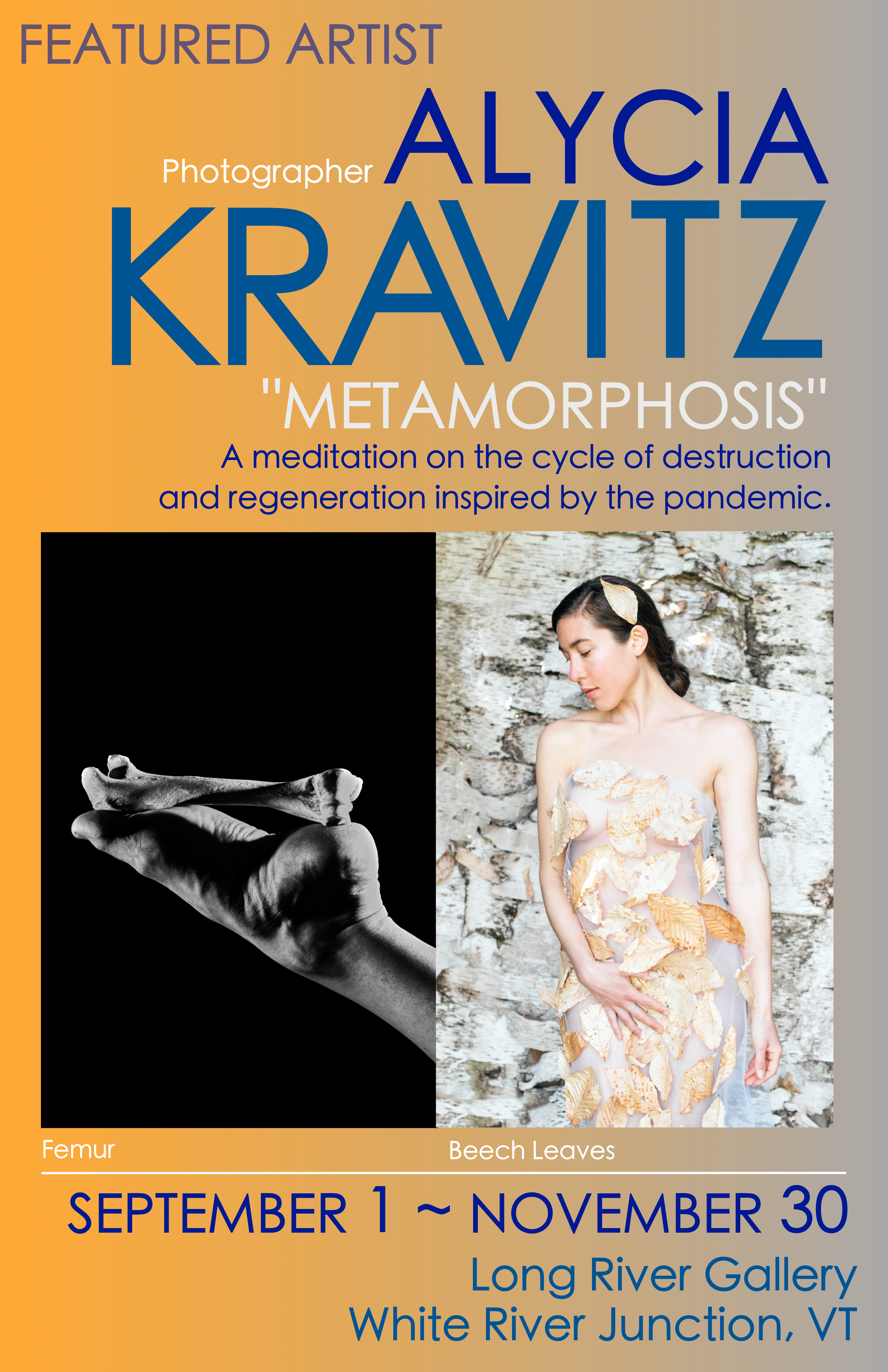 Alycia Kravitz: Metamorphosis
Kravitz grew up in Hartford, VT and is now a professional photographer in New York City. She has been home in Vermont since March.
The series is called "Metamorphosis," and comprises two thematically linked but visually distinct sets of images, all made during quarantine in Vermont. They are all self-portraits, made using natural materials from the area. Kravitz says: 
"I conceived of this project to express the disparate impulses I, and I'm sure many others, are experiencing during the pandemic. Darkness and destruction mixed with hope and light. We are part of the natural world, and we too travel through the cycles of birth, maturation, decay, death and, perhaps, rebirth. The images are a meditation on this kaleidoscopic range of emotion during a global emergency." 
The exhibition is on view September 1st to November 30th, 2020. A small, ticket only reception with the artist will be held in October. Please let us know if you are interested in attending. More information will be sent closer to the event.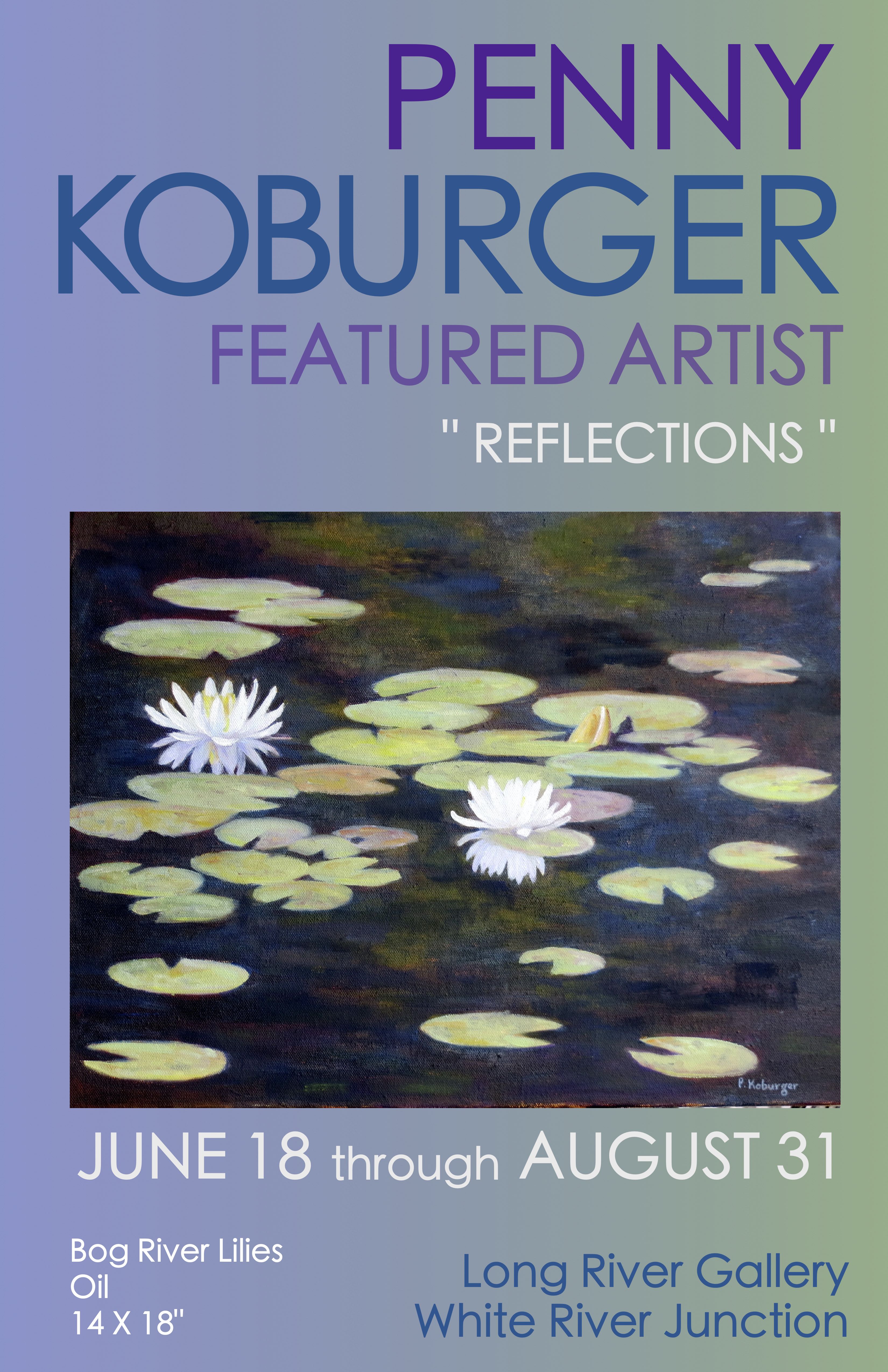 Penelope Koburger: Reflections
Penelope (Penny) is an oil and watercolor painter. While attending Carleton College, she took studio arts classes and spent a summer working as an illustrator for the U.S. Forest Service in Monongahela National Forest. She went on to a doctorate and career in clinical psychology.  She returned to painting more actively 15 years ago and currently paints full time.
Penny likes to paint and draw a variety of everyday subject matter because painting allows her to slow down and really contemplate a person, object or "nature". Penny continues to explore and experiment with how to express visual qualities. She says, "Light, color, and mood fascinate me.  I attempt to create an emotional connection, rather than strive for total realism."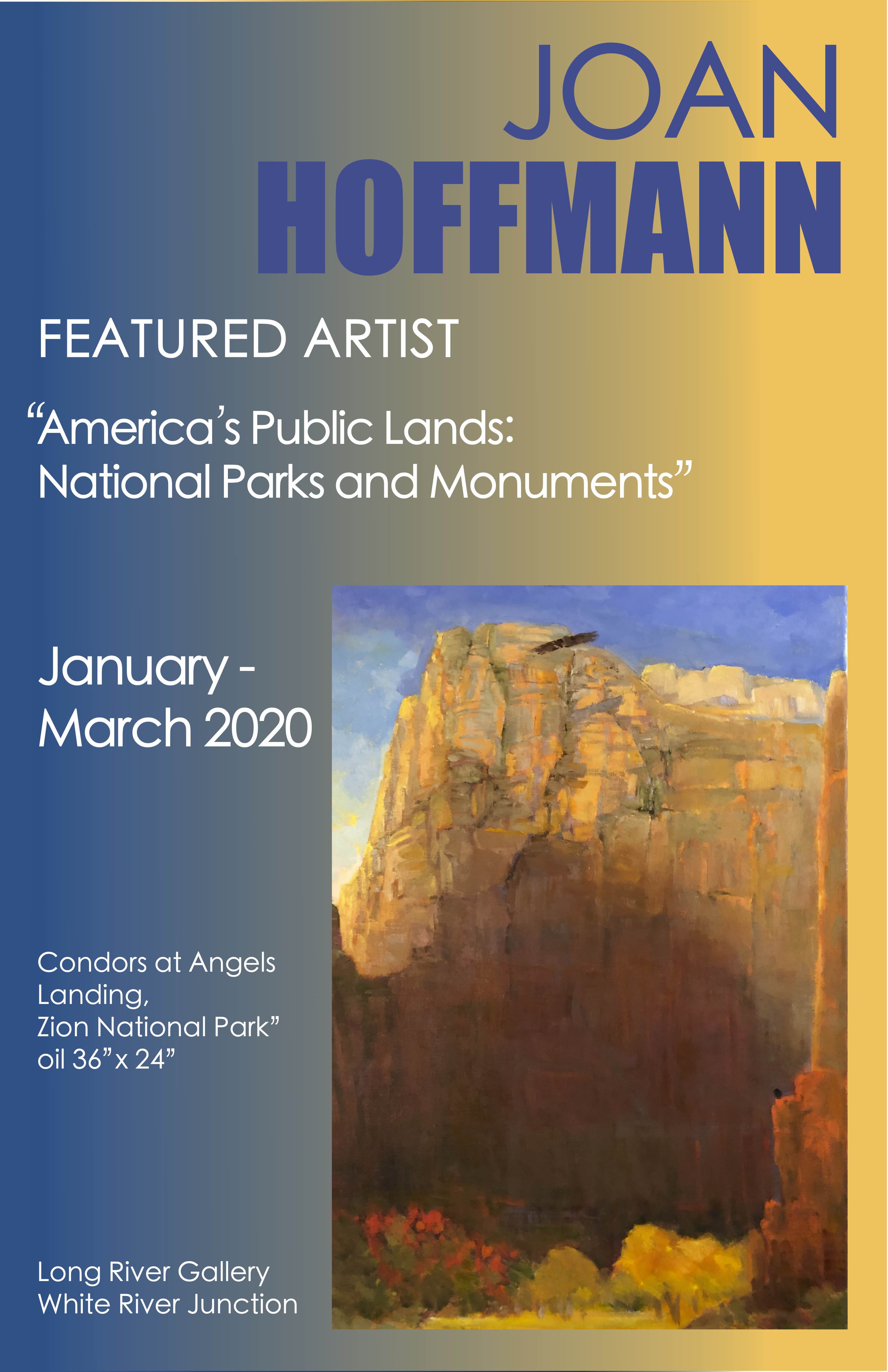 Joan Hoffmann: America's Public Lands: National Parks and Monuments 
January – March 2020
"In art is the meaning of experience. Our free spirit and our public lands go hand in hand." – Joan Hoffman
National parks offer us a way to appreciate the beauty of our nation's wild places and observe animals in their natural habitat, as well as to learn about our natural history and different cultures.
Joan Hoffman, often known as "the National Park painter" paints impressionistic oil and watercolor landscapes en plein air in National Parks and Monuments or places that will become monuments. She is dedicated to painting, teaching and preserving the wild landscapes that she explores. Her impressionistic oils evoke a poetic sense of place, and she recently returned from Zion National Park in southwest Utah, home to steep red cliffs, deep chasms, the Virgin River, waterfalls, and Emerald Pools.
Joan also lectures on the History of American Landscape Painting, National Parks, Public Lands
and wilderness areas and participates in Artist-in-Residence programs in three National Parks: Yosemite (2005), Marsh-Billings-Rockefeller NHP (2016), and Zion (2019). She lives in South Royalton, VT and exhibits and sells her oils and watercolors at her studio there and at Long River Gallery, VT and Cow Canyon Trading Post, UT. Joan is teaching a watercolor class at AVA Gallery and Art Center this winter.
 We will hold an artist reception for Joan on February 7th First Friday.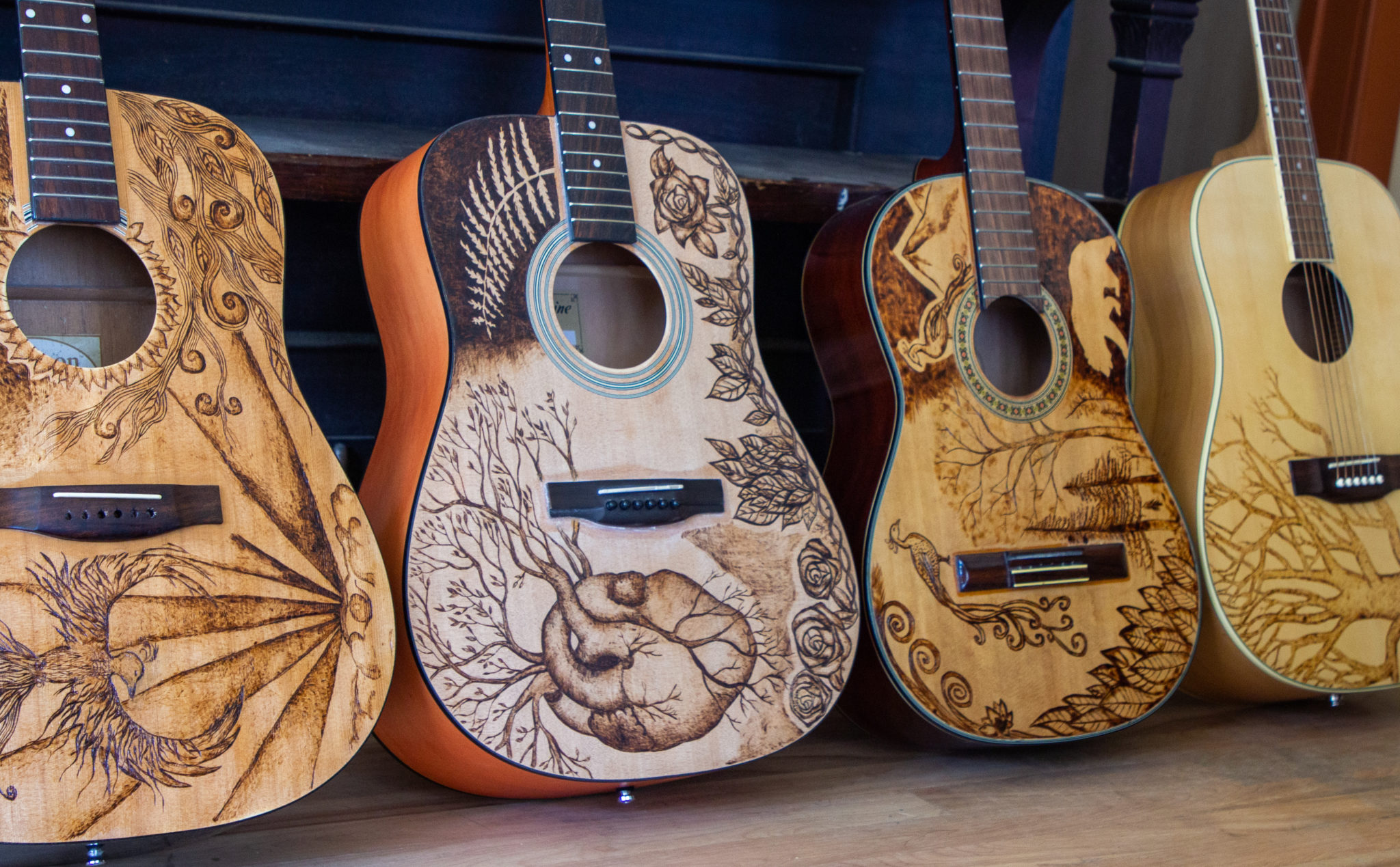 Jenna Rice: "Guitar Tattoos"
September 6th 2019 –
Pyrographer Jenna Rice burns designs into the faces of musical instruments. A musician herself, Jenna has been doing pyrography for many years, but married the two art forms when she built her first guitar and burned a maple tree on the face. She now searches yard sales and thrifts stores for interesting guitars and ukuleles to burn. Jenna's works often feature images with symbolic meaning, as well as those of nature, forests, and animals.
Driven by a constant need for trying new things, Jenna has experimented with many different forms of art, including painting, pottery, poetry, and photography, before settling (for now) on pyrography and songwriting. Last month, Jenna released her debut album of original music. You can find her playing at various venues throughout the Upper Valley and beyond.
When not creating, Jenna can be found hiking, traveling, canoeing, adventuring, and exploring and gathering inspiration for her next project. She lives on a small farm in Wethersfield, Vermont with her partner Greg (also a songwriter), a dog, a cat, 16 ducks, 5 turkeys, 40some chickens, 3 pigs, 5 sheep and 5 rabbits.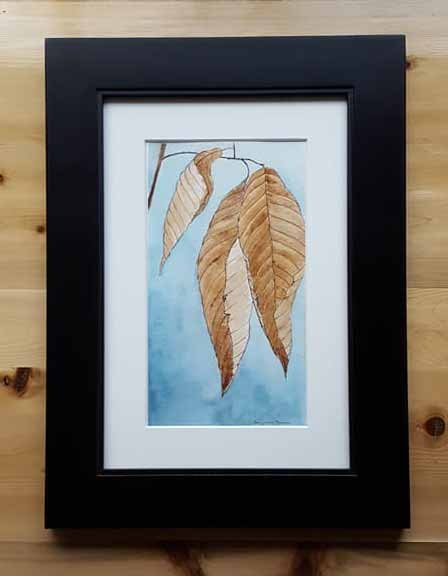 Amy Hook- Therrien
September 6th 2019 – October 2019
Amy Hook-Therrien is a visual artist who creates paintings using watercolor/ pen & ink. As a native Vermonter, originally from Chelsea, she grew up nestled on top of a hill overlooking the valleys below. She was surrounded by nature and beauty. Nature is her main inspiration and the focus of a majority of her pieces. She graduated from Randolph Union High School with a passion for art. She went onto college at the University of Maine in Orono majoring in fine art with a focus in sculpture and painting. After graduating with a BFA from UMaine she moved back to Vermont. When she is not creating art Amy loves to travel, hike, garden, and spend time with her family.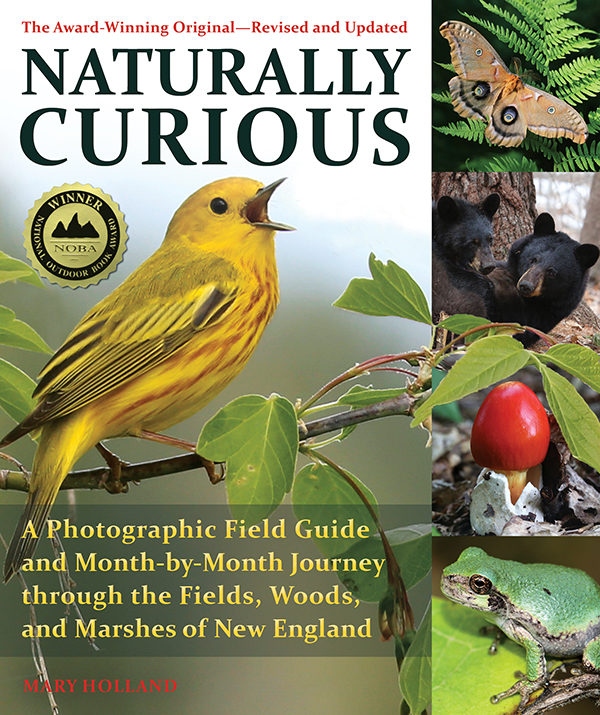 Naturally Curious with Mary Holland
Conversations with the author, and book signing
Friday, August 2, 2019 – 6 – 8 PM
Join us to welcome the new edition of this acclaimed naturalist's book Naturally Curious: A Photographic Field Guide and Month-By-Month Journey Through the Fields, Woods, and Marshes of New England. Due out July 2019.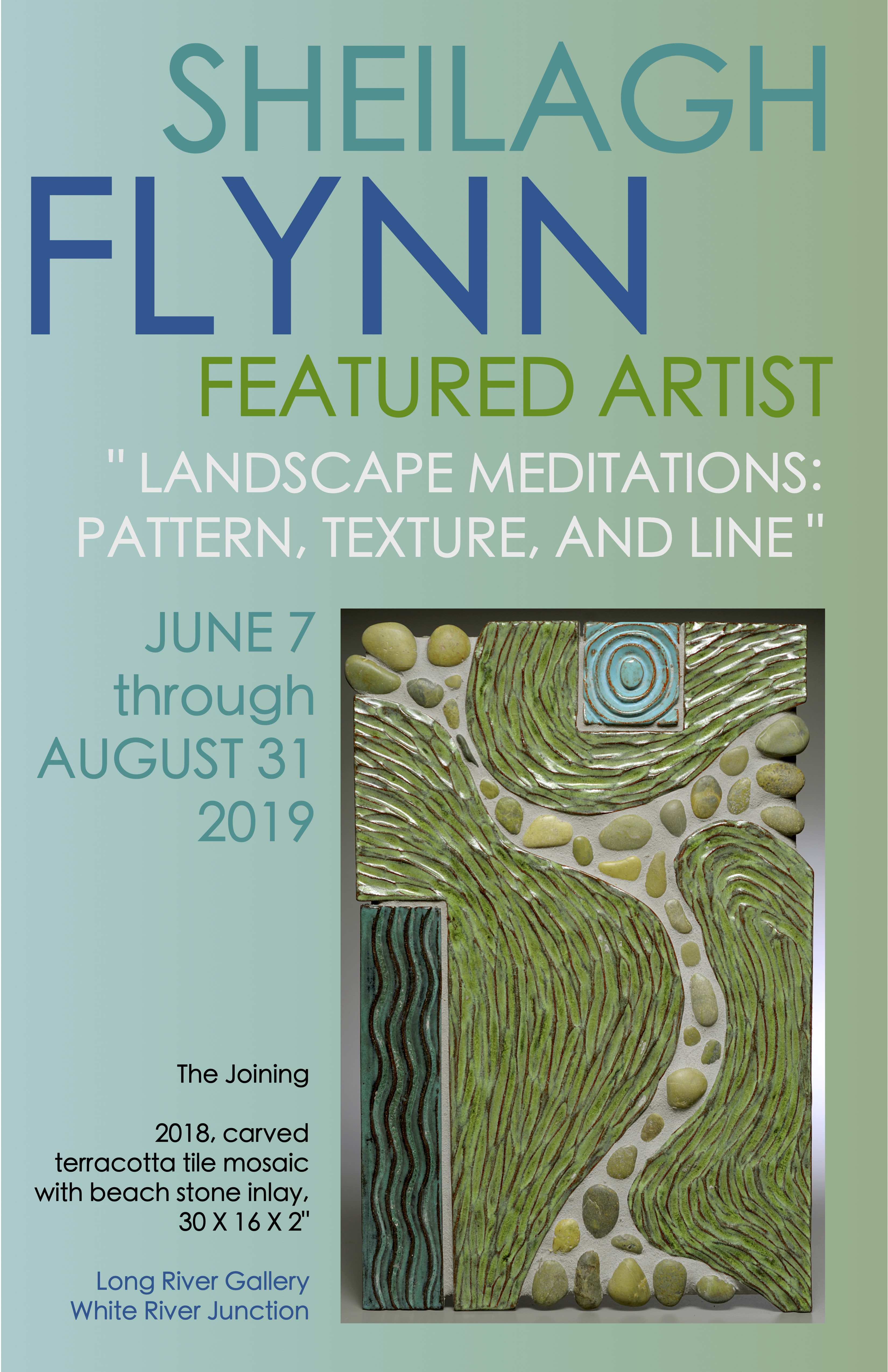 Sheilagh Flynn: "Landscape Meditations: Pattern, Texture, and Line"
June 3, 2019 – September 2, 2019
Opening Reception June 7th, 6-8PM
Sheilagh Flynn captures the dynamics of the earth's textures and rhythms in mixed-media wall mosaics composed of clay and stone.  She celebrates color with the intent to create harmony and contrast within the pieces to enhance the varied carved elements.  The results are powerful and mindful works of art that invite visual and tactile engagement.
The clay journey started at Boston College with the discovery of the ceramics studio and falling in love with making pottery on the wheel.  Graduating in 1982, Flynn worked for an upholsterer until clay intervened again and in 1984 she continued her pursuit of pottery at Harvard University Ceramics Studio.  There she developed a line of functional pottery and launched her career in the world of ceramics. Flynn was on staff at Harvard, responsible for Raku workshops, kiln maintenance and other administrative tasks at the studio.  Growing restless and in need of new information and input, Flynn enrolled at University of Massachusetts, Dartmouth, studying with Chris Gustin and Karon Doherty.  It is there she created large scale hand built vessels with carved surfaces.   These surfaces are the predecessor to the mosaic tile of the future.    Post grad school saw a return to functional pottery until 2014 when after an illness Flynn decided to give full attention to the nascent vision she had in her head: abstracted landscapes based on aerial images of land, water and shore.
Texture, rhythm and the balance of furrowed fields, the round discs of irrigation in the Midwest, mountain ranges and how roads and rivers cut through the landscape are source material for the mosaic wall work.  Flynn takes in all the visual information and works intuitively on the clay canvas.  She establishes the river/path and working from that lively line she defines each territory looking to create harmonious energy.  The parts are then individually carved with a variety of texture.  The work dries, is bisque fired, and then glazed with a palette that include upward of 30 colors.  The work is then reassembled on a backer board; the stone is selected and set with mortar.  Grout completes the process and the parts become a whole.
Flynn creates an original world of color and texture that tells a story about journey, flight and imagination.  The resultant work creates a vibrant, serene and expanding sense of space and place that has resonances with classic Zen Buddhist gardens or meditative moment on the beach.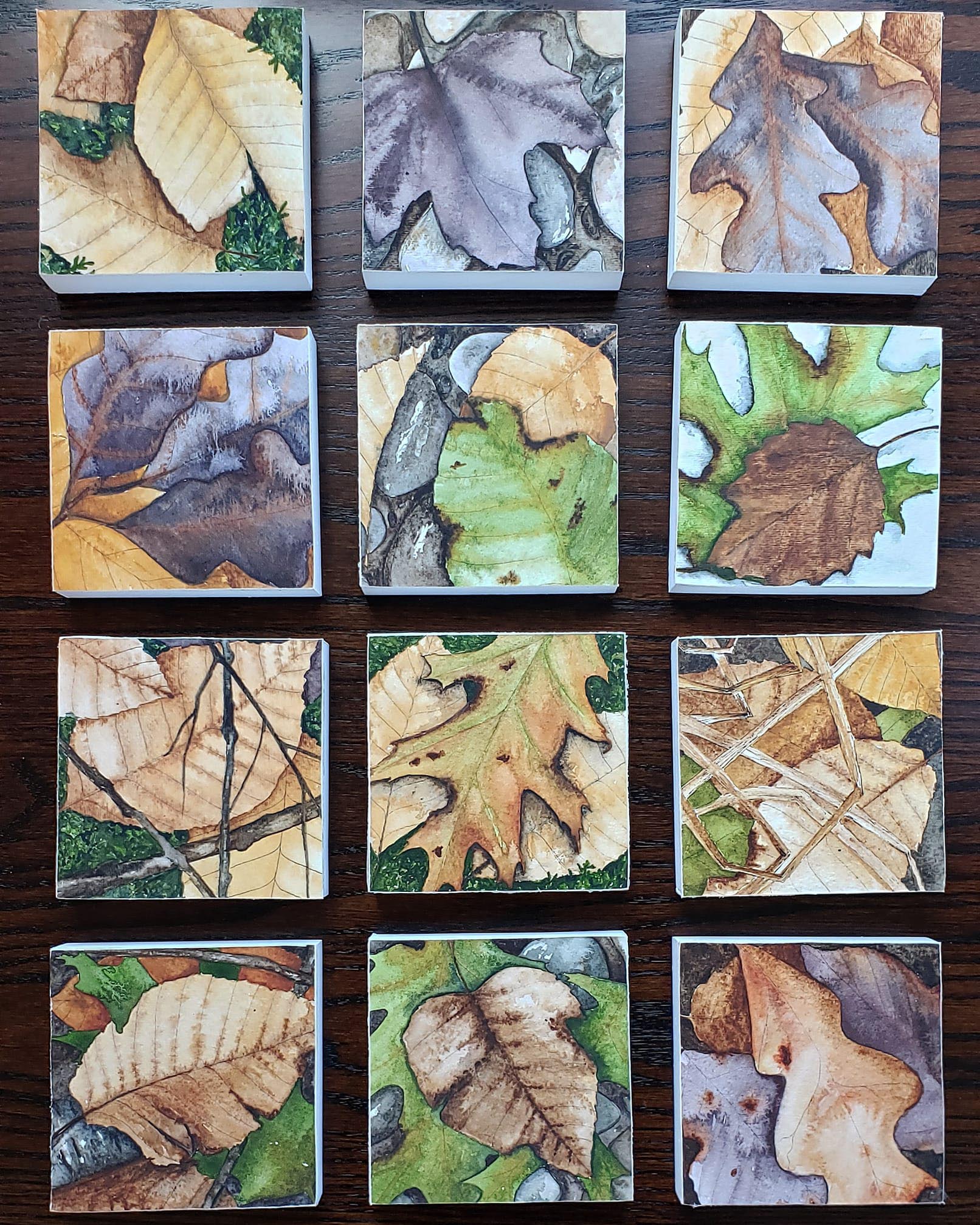 Twelve Littles, work in progress.
Amy Hook-Therrien: "Littles"
May 3, 2019 – July 31, 2019
Opening Reception May 3rd (First Friday) 6-8 PM
Amy Hook-Therrien is a visual artist who creates paintings using watercolor/ pen & ink. As a native Vermonter, originally from Chelsea, she grew up nestled on top of a hill overlooking the valleys below. She was surrounded by nature and beauty. Nature is her main inspiration and the focus of a majority of her pieces. She graduated from Randolph Union High School with a passion for art. She went onto college at the University of Maine in Orono majoring in fine art with a focus in sculpture and painting. After graduating with a BFA from UMaine she moved back to Vermont. When she is not creating art Amy loves to travel, hike, garden, and spend time with her family.
This show will include 72 separate watercolor paintings of leaves on the forest floor. Each 4″x4″ painting is painted on watercolor paper and then mounted on a small wood panel and protected with matt varnish.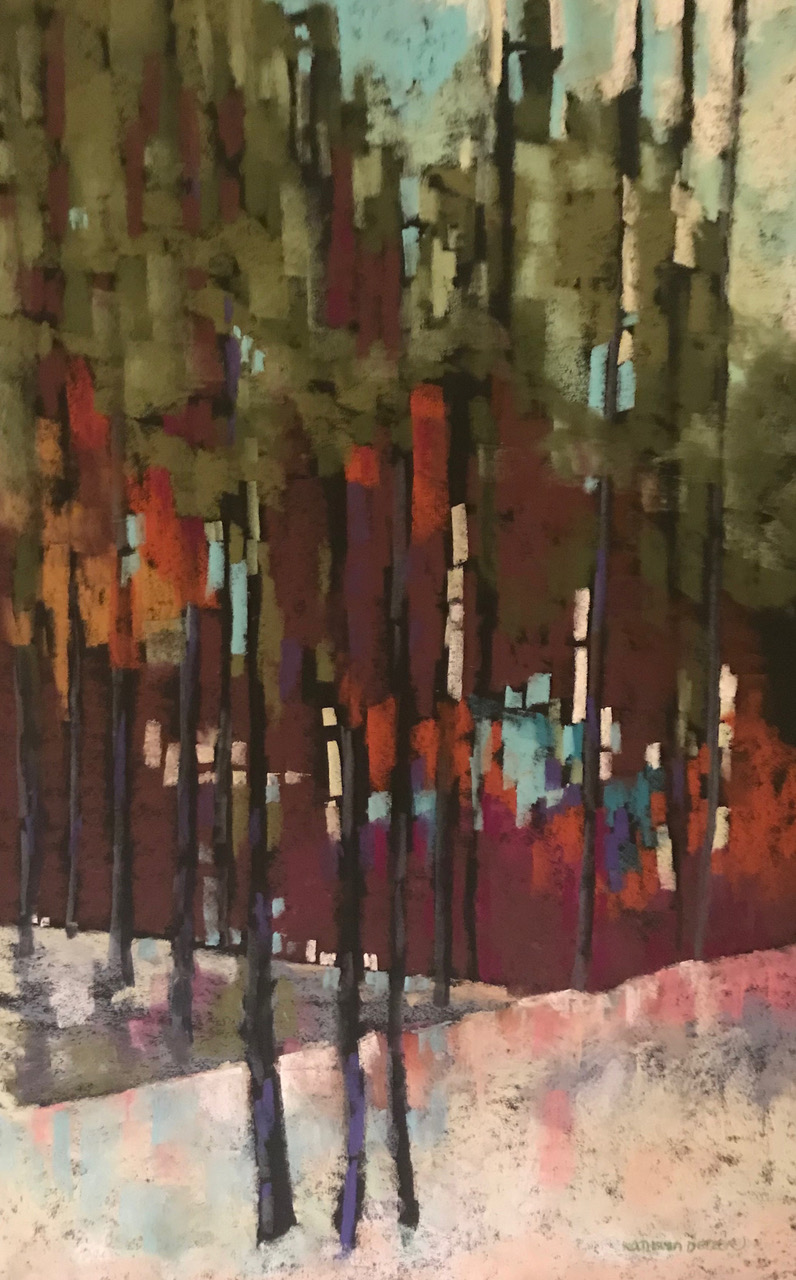 Kathryn Detzer: "Through the Trees"
March 1, 2019 – May 31, 2019
Kathryn Detzer's"Through the Trees" invites viewers to notice the ways that light filters through the forest in of all its seasons. Detzer has been working in pastel for over 20 years, but for those familiar with her work, these are a diversion into the realm of the abstract.
Image:  Kathryn Detzer, Reaching Northward, 2018, pastel on Mi Tientes sanded paper, 34.5 X 24.5", 2018
Matthew Sergeant: "Photographic Vision"
December 7, 2018 – February 28, 2019
Matthew Sergeant's "Photographic Vision"explores a new visual space between movement, time, and perspective. Sergeant, who lives and works in Vermont, created his latest body of work by designing and building a digital camera to operate outside of conventional photographic formats. The resulting images are a mix of realism and abstraction with landscapes, rivers, rocks, and trees translated into a flowing stream of tones.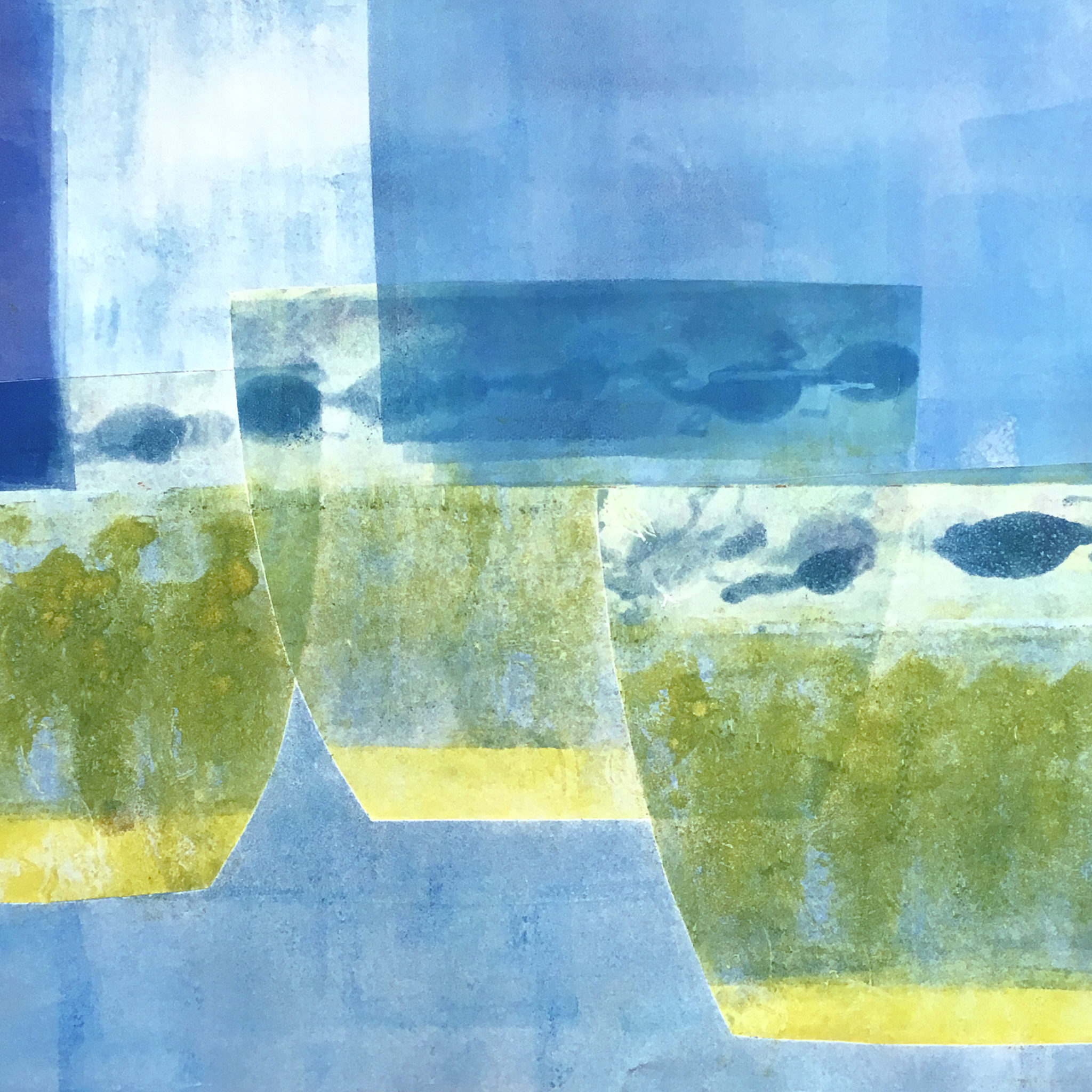 Patty Castellini: "Abstract Monotypes"
September 7, 2018 – December 6, 2018
Drawing on her long relationship with ink, brayers, and the printmaking process, Castellini mixes inks and paints in unconventional ways, producing an art of possibility and expressing the infinite properties, color combinations, compositions and visual textures of the medium.
Image: Patty Castellini, Full Vessels, 2018, monotype, 8 x 8". Photo Credit Athena Tasiopoulos