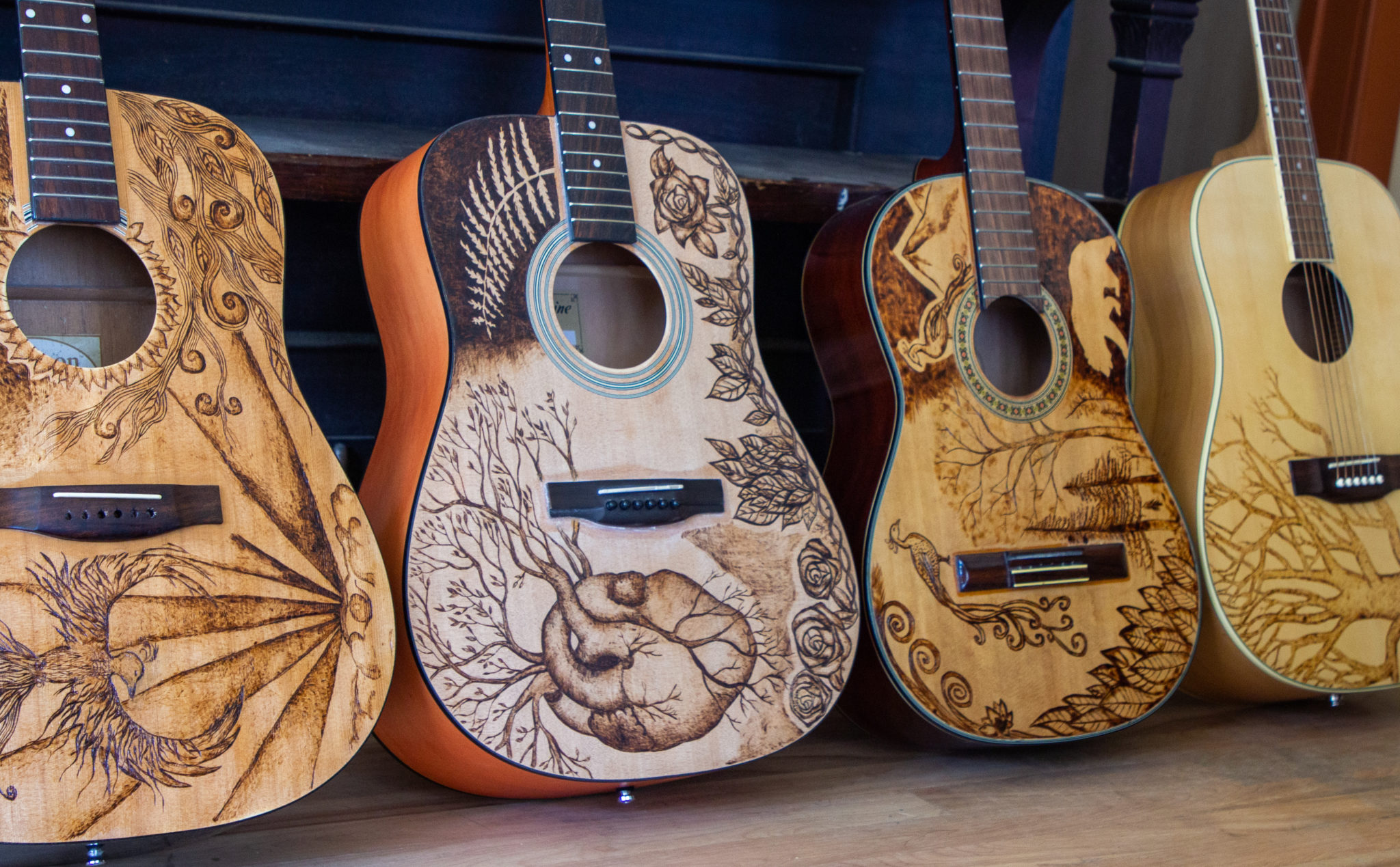 Jenna Rice: "Guitar Tattoos"
September 6th 2019 – October 2019
Pyrographer Jenna Rice burns designs into the faces of musical instruments. A musician herself, Jenna has been doing pyrography for many years, but married the two art forms when she built her first guitar and burned a maple tree on the face. She now searches yard sales and thrifts stores for interesting guitars and ukuleles to burn. Jenna's works often feature images with symbolic meaning, as well as those of nature, forests, and animals.
Driven by a constant need for trying new things, Jenna has experimented with many different forms of art, including painting, pottery, poetry, and photography, before settling (for now) on pyrography and songwriting. Last month, Jenna released her debut album of original music. You can find her playing at various venues throughout the Upper Valley and beyond.
When not creating, Jenna can be found hiking, traveling, canoeing, adventuring, and exploring and gathering inspiration for her next project. She lives on a small farm in Wethersfield, Vermont with her partner Greg (also a songwriter), a dog, a cat, 16 ducks, 5 turkeys, 40some chickens, 3 pigs, 5 sheep and 5 rabbits.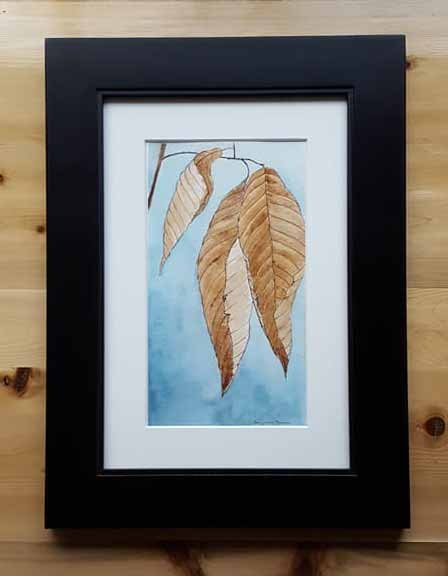 Amy Hook- Therrien
September 6th 2019 – October 2019
Amy Hook-Therrien is a visual artist who creates paintings using watercolor/ pen & ink. As a native Vermonter, originally from Chelsea, she grew up nestled on top of a hill overlooking the valleys below. She was surrounded by nature and beauty. Nature is her main inspiration and the focus of a majority of her pieces. She graduated from Randolph Union High School with a passion for art. She went onto college at the University of Maine in Orono majoring in fine art with a focus in sculpture and painting. After graduating with a BFA from UMaine she moved back to Vermont. When she is not creating art Amy loves to travel, hike, garden, and spend time with her family.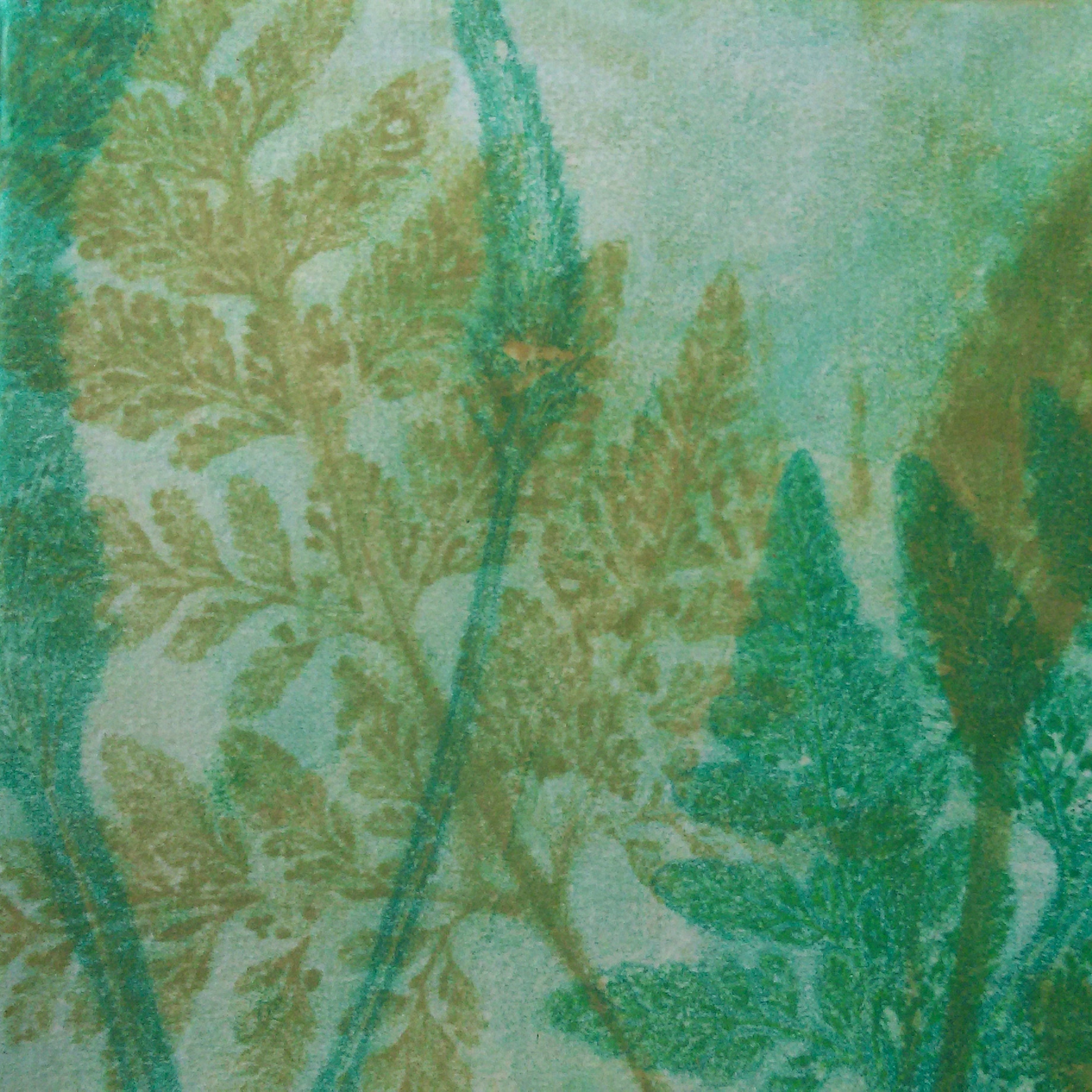 Coleen O'Connell: "Ferns, Feathers, and Fish"
October 2019 – November 2019
Coleen loves all things colorful and creative but especially anything to do with fabric and yarn and nature. Friendship quilts are a favorite. Coleen is both a fiber artist and nature printer, and a member of the International Nature Printing Society. In love with the natural world, she has found nature printing to be an exquisite way to capture the intricacies and patterns in life.
Coleen is a retired Professor of Ecological Pedagogy in the Graduate School of Education at Lesley University. As an amateur naturalist, she has taught students in the field for over 30 years. Her fiber skills are a result of a grandmother who had Coleen sewing, knitting, embroidering and crocheting beginning at age five. Coleen's works of art are functional and one of a kind.
Joan Hoffman (oil painting)
December 2019 – February 2020