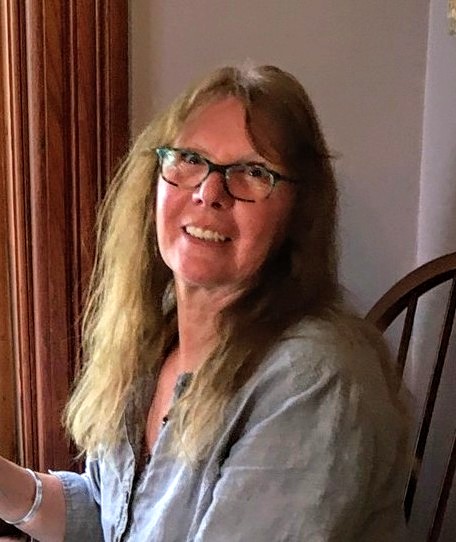 Julie Crabtree
Julie Crabtree was born in Nottingham, England and attained City and Guilds of London qualifications in Fashion, Textiles and Embroidery at Mansfield College of Arts where she went on to teach before leaving for a life in Canada and, eventually, the United States.
Along this journey, experiencing various aspects of life and skills, she brings together her life experience and skills as a practicing textile artist, teacher and painter.
Initially a textile artist, more recently Julie has discovered painting which has become a prevalent passion. "Painting has always been a part of my textile creations, keeping a sketchbook journal as a basic working reference to my ongoing projects."
Landscapes are a primary focus of Julie's work, Steeped in color and texture, Julie finds endless inspiration in nature; rocks, trees, foliage, and the sea. She has gone from realism to a more recent exploratory expression through textiles. The immersion of nature with centuries of erosion evokes a desire to create as in the past with needle, thread and paint, capturing the feeling and time within the work.
Whether it be locally, in the woods and hills of her new home in Vermont or on a trip to Orkney and the Outer Hebrides of Scotland, Julie travels with sketchbook and camera always at-hand. These places have become a major influence in her present work.
"I felt a huge connection to the Orkney Island, its bleak austere land. The magnitude of archeological history; Viking culture, rugged cliffs and crashing sea, it is a land to its own, with so much to give the artistic soul."
Julie spends many hours developing ideas. Her textiles can include many layers of stitchery by hand, free motion machine stitching, the use of sheers and netting, painted and dyed backgrounds, distressed fabrics, hand spun and dyed yarns, felting, use of soluble stabilizers and other experimental techniques to create the unique effect she is striving for.
As an artist, Julie feels it is a gift to explore and create during this time on earth.