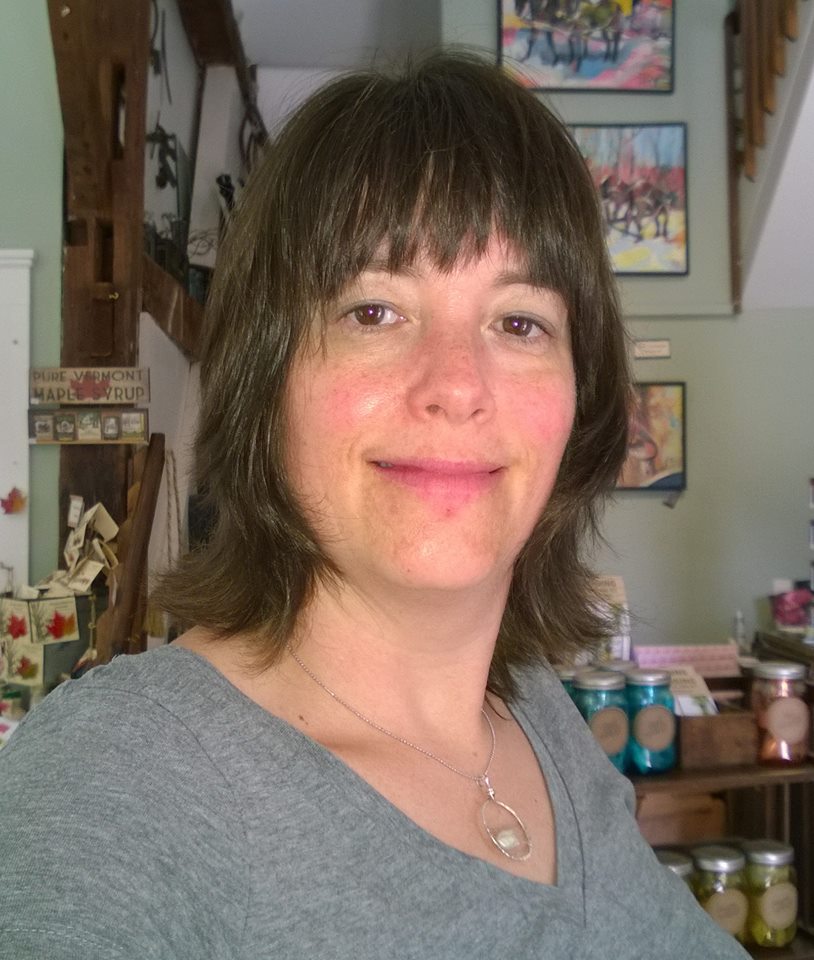 Chester, VT
Michele is a Vermont native. Her love of rocks, shells and beads began at an early age. She created and sold jewelry at street fairs and crafts shows, before she was even a teenager. In 1990 she began working at the Rock and Hammer in Bellows Falls, Vermont, where she learned jewelry fabrication, sales and service.
Michele graduated from Bellows Falls Union high school in 1992 and continued on to the Gemological Institute of America in Santa Monica, California. Michele focused on Gemology and Jewelry manufacturing arts, graduating in 1994 as a Graduate Jeweler Gemologist.
From 1996 to 2010 Michele worked as a Jewelry appraiser. She continued to learn all the facets of the jewelry industry.
With the birth of her son in 2003, Michele began a home-based business called Tied Up Treasures, offering pearl and bead stringing and restringing to area jewelers and wholesalers. Michele also began wholesaling her line of forged sterling silver jewelry, containing freshwater pearls and gemstones. In  2006, Michele's daughter was born, which in 2010 lead to the formation of Sage Jewelry, a retail jewelry store and Studio in Chester Vermont. Sage Jewelry featured Michele's line of jewelry and showcased a small selection of gifts from local artists.  In 2012 Sage Jewelry moved to a larger location at 78 The Common, on Chester, Vermont's scenic green.  Becoming Sage Jewelry and Gifts. Now featuring an expanded selection of American and fair trade crafted gifts. Michele's jewelry is exhibited in thoughtful, creative displays, highlighting the beauty of each piece. Jewelry repair and custom design services are available as well as pearl and bead stringing services to the public and trade.